Succulents are a popular plant that many people nowadays love to own. They add color and liveliness to any space and are usually easy to care for. However, most people like to have succulents inside their homes, so what if you want to keep them outside year-round? Can succulents survive the harshness of winter months and, if so, how can you help them?
People like succulents for their hardy nature, making them easy to care for; but this hardiness also allows them to withstand extremely cold climates and winter conditions. Sempervivum, Hardy Sedum, and Hardy Opuntia are great succulent genera for surviving tough winters. To help, water them sparingly, keep them dry, and place them in a sunny spot.
If you want to spruce up your outdoor garden with some charming succulents, but you live somewhere with cold, harsh winters, don't worry. We can tell you exactly which succulents are best equipped to survive these conditions and which to keep inside. We'll also supply lifesaving and sustaining tips to ensure your winter-bearing succulents survive to see spring.
Can Succulents Survive the Winter?
Yes. Many, but not all, succulents can survive throughout winter. When one hears the word "succulent," they usually think of the spiky little plants found spotting the dry, arid terrain of deserts or semi-deserts.
This gives people the misconception that these plants only thrive in really barren and hot environments when, in reality, deserts can plummet to temperatures of about 25°F (-3.9°C ) or colder, which is comparable to the average temperature in various U.S. states throughout winter.
While the average nightly temperature varies depending on the region, these conditions mean that many succulent species have learned how to adapt to extreme temperatures on both sides of the spectrum.
Now, some of you might be thinking that with winter comes snow, and the days don't heat up drastically like they do in the desert. A succulent has to be able to survive winter conditions for months versus the handful of hours until a desert sunrise. But a cold-hardy succulent won't find either to be an issue.
Succulents are extremely hardy plants, and many can easily endure being outside in the winter elements for months, especially with some help from you. Species found naturally in the desert, or even mountain ranges are no strangers to snowfall and prolonged cold.
Therefore, if you're seeking a succulent that can survive year-round, especially throughout winter, this largely depends on you planting the right one.
Which Succulents Can Survive Winter and Which Should be Kept Inside?
While many succulents can hunker down, survive, and sometimes thrive throughout the winter months due to their origins in deserts or mountains with extreme conditions, many are also from rain forests and will struggle immensely in these conditions.
Therefore, it is important to know which succulents can handle the winter months with ease and which ones you are better off keeping indoors.
Succulents That Can Survive the Winter
There is a vast list of succulent species and/or genus that will embrace the challenges of winter with open arms and can even do so looking as vibrant and beautiful as a rose blooming in spring. The catch is knowing which ones are capable of this and which will perish under the pressure.
To help, we've compiled a list below of the succulents that are best equipped for surviving harsh winter months and will likely thrive year-round. The majority of them fall under three genus: Sempervivum, Hardy Sedum, and Hardy Opuntia.
| | | |
| --- | --- | --- |
| Genus | Optimal temperatures | Species |
| Sempervivum | As low as – 30 degrees Fahrenheit | Sempervivum heuffelii (aka. Purple Haze or Job's Beard)Sempervivum red lionSempervivum mahoganySempervivum calcareumSempervivum cobweb |
| Hardy Sedum | As low as -20 to -40 degrees Fahrenheit | Sedum Dasyphyllum MajorSedum Golden MossDragon's Blood SedumCape Blanco Sedum |
| Hardy Opuntias | As low as -35 degrees Fahrenheit | Eastern prickly-pear cactusBrittle prickly-pear cactusPlains prickly-pear cactus |
| Other(Includes cacti of the following families:Echinocereus, Ferocactus, Echinopsis, and Mammillaria) | Varies depending on cactus and family, but all are considered cold hardy | Beehive or Pincushion cactusClaret cup or Hedgehog cactusChollaPineapple cactusOld Man cactusOrange Snowball cactusBarrel cactus |
For most regions, you can't go wrong choosing one of the succulents listed above if you're looking for one that will last through the winter. All you need to do is research them, choose one you can afford, and give proper care and that has your ideal aesthetic.
Succulents That Can't Survive Winter
Some succulents can undoubtedly survive the bitter cold and inches of snow that come with winter, but some will suffer greatly and likely succumb to these conditions.
Like we mentioned previously, there are a decent number of succulents that feel most at home in the heat and moist conditions of the rain forest, and so, many can't even survive moderately cold temperatures for two or three nights, let alone months of winter.
These are the plants that you really need to keep inside and manage their conditions if you want to ensure their survival.
While we won't supply a list as extensive as the one detailed above, we can tell you that, for the most part, if a succulent is part of one of the following genus, it isn't cold-hardy and shouldn't be left outside in the winter or cold fall months for some regions.
Echeverias: ideal temperature range= 65 to 70 °F, low of 50°F in winter
Aeoniums: ideal temperature range= 40 to 100 °F
Haworthias: ideal temperature range= 75 to 90°F
Most Aloes: ideal temperature range= 55 and 80°F
You should always check the growing zone of your residence in the USDA hardiness map before planting these succulents outdoors if you feel you have the optimal external conditions. It will match your zip code to its planting zone and provide information vital to plant survival. Checking this before planting cold-hardy succulents or any plant, in general, is always a good idea.
Tips for Protecting Your Succulent in the Winter
Alright, so you know now which succulent can survive the winter months best, but that doesn't mean the plan of action should be to plant them outside and leave them to fend for themselves.
You still need to provide your succulent with optimal care while they are surviving outdoors, especially if you live in a region with particularly harsh winters, such as Marquette, Michigan, Buffalo, New York, Caribou, Maine, and frankly, anywhere in Alaska.
Here are our best tips for protecting your succulent in the winter, so you can give your beloved plants their best chance when braving these difficult months.
Provide Your Succulent with Minimal Water During Winter Months
When winter comes around, you don't want to overwater your succulents with the assumption they're dehydrating without rain.
These plants are extremely hardy and used to surviving with minimal water, so you should only water them when there are prolonged periods without snow and you notice your succulent surrounding dirt is extremely dry.
Even then, you want to water them sparingly and only provide enough to prevent dehydration. Odds are, it will snow at some point, and when it does, the snow will melt and provide water to your succulent, maybe even too much water.
This is why it is important to research the succulents you want to plant outdoors and ensure their needs and optimal environment match where you live. You should also know if your succulent is dormant or active during the winter, as an active succulent will require more water and care.
Plant Them In a Sunny Location
The number of daylight hours decreases significantly during the winter months, so you'll want to make sure your succulent is planted somewhere it can obtain sufficient amounts of sunlight in the limited time it has daily.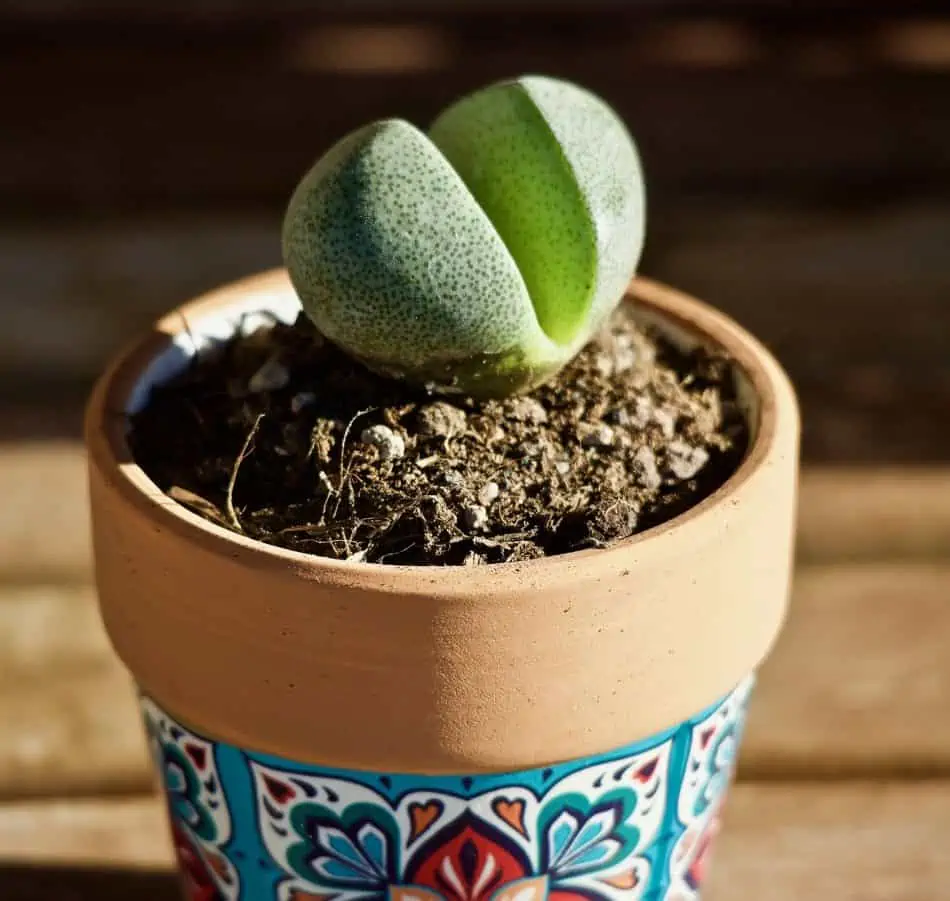 Be conscious of what kind of succulent you have and how it prefers to obtain sunlight. Some can sit in direct sunlight for hours and thrive, while others prefer indirect sunlight and should be planted accordingly.
Keep Your Succulent Dry
One rule of thumb that applies to essentially all succulents is that they don't need mass amounts of water to stay alive. The plant is very good at reserving and efficiently using any small amounts of water it can acquire, which is why winter can sometimes pose a life-threatening challenge to even the cold-hardiest of succulents.
There are few cities and even fewer states in the U.S. that don't receive any precipitation during their winter months. Mass amounts of snow can be dangerous for your succulents, especially when it starts to melt, as the risk of overwatering increases drastically.
To prevent this, you're biggest priority during the winter months is to keep your succulent dry. A good way to do this is to actually keep it in a pot with drainage holes instead of burying it directly in the ground and filling the pot with a fast-draining, gritty mix.
The pot will give you more control over your succulent's condition, and the mix will prevent the soil around your succulent from retaining too much moisture from snowfall or occasional rain. 
Know When to Quit
If you've chosen one of the succulents from the provided chart, odds are it will survive just fine during the winter, as long as it gets the right amount of sunlight, water and is kept dry.
However, winters can be unpredictable, and you might find your succulent is struggling more than usual. In these cases, it's best for the plant's health and longevity to bring it inside.
If you notice clear signs of frost damage or other ailments, you don't want to wait and see if your succulent can stick it out for the remaining days, weeks, or months you might have left in winter. Instead, carefully transition it indoors, restore it back to health, and keep it inside for as long as necessary.
Final Thoughts
Gardeners and succulent enthusiasts living in colder regions will be ecstatic to know that having a succulent garden outdoors that will survive the winter is indeed possible. There are countless beautiful and cold-hardy options to choose from, but the most important element here is you.
While your cold-hardy succulent has the basic tools to survive harsh winters, it's still going to need your help. Research the plant and make sure it's a good fit for the region where you live and provide it with all of the life-sustaining elements it needs. If winter is being uncharacteristically brutal, there's nothing wrong with bringing these plants indoors until more optimal conditions arrive.
Last update on 2023-07-29 / Affiliate links / Images from Amazon Product Advertising API