Camels, commonly referred to as 'ships of the desert' have bodies built for harsh weather conditions, which is why they can survive the desert. A recent curiosity got me thinking, what do camels eat in the desert? I know that cacti are found in the desert but, can camels eat cactus? I went on a pursuit to find out the possibility of this happening.
So, can a camel eat cactus? Camels can eat cactus. Their mouths are lined with what is referred to as Papillae. The papillae help prevent any damage when they are eating the cactus and helps food flow in one direction which goes straight to the stomach.
What's surprising is that camels have a hard palate located at the top of the mouth. The palate helps the camel avoid any mouth injuries as it chews the food. With the help of the papillae, the cactus needles slide down the camel's throat without causing any damages.
How is it possible for camels to eat cactus?
1. The Papillae
Due to the harsh conditions in the desert, they have been forced to adapt to eating the thorny cacti. The papillae are in the form of hardened 'wiggly fingers' which helps the camel avoid any damages in its mouth
The papillae direct the food down to the stomach. The aim is usually to avoid being poked by the thorns. For this to happen, they pivot their chew, and the needles slide down the throat vertically. Papillae are made of keratin, which is the same hard material that forms nails.
The funny thing is, the thorny cactus can cause some discomfort to the camels. But they choose to withstand the discomfort just to get to the juicy, succulent part.
All camels have papillae but how strong they are depends on the general health of the animal. If they are blunt or ulcerated, then that means the camel is unhealthy.
2. They are ruminants
The fact that camels are ruminants also facilitates the eating of cactus. Their multi-chambered stomach harbors billions of bacteria. The bacteria helps in cellulose digestion, which is present in the succulent plants they eat.
3. It is a survival tactic especially for those in desert areas
Camels can live in deserts comfortably because they have features that make them adapt to the harsh environment. Most species of cacti are found in dry areas. Camels can be found there, and most of the vegetation available are cacti. Therefore, camels are prone to get attracted to eating cactus, which they also seem to enjoy eating as seen in this video by NatGeo.
The funny bit is, despite eating cacti, they also can go for days without eating as they have a hump that stores food as fat for energy.
Did you know there are other animals that eat cactus?
During drought, animals will often go for the most common type of cactus, prickly pear. Animals such as deers, squirrels, birds, beetles, tortoises, pack rats, javelinas, antelopes and jackrabbits all eat cactus fruit. Other times, farmers burn the thorns so that the cattle can feed on them.
Most of the rodents will distribute cactus seeds through their feces when they eat the cactus.
Here are the cacti parts some of these animals eat:
Jackrabbits: they only feed on the base of the cactus as there are no thorns.
Pack rats: they are quick to note the sections that are thorny and eat selectively avoiding the spiky part.
Javelinas: they eat all parts of the cactus, including the long needles. One interesting fact about javelinas is that their kidneys can filter out oxalic acid, which is in cacti.
Ground squirrels: they stay in ground burrows. They eat fruits and seeds of the cactus.
Gophers: they are rodents that live underground. They eat the cactus to get water.
How can cactus be used as an animal feed
Cactus thrives in drylands. However, water scarcity in such dry areas threatens livestock production. Cacti can produce biomass. Considering they are 90% rich in water, and the rest is dry matter, they provide an excellent option for water provision in dry areas.
Cactus grows in harsh conditions and is an economical option for people living in arid areas, especially livestock owners and producers.
Ideally, a cow has the potential to drink water between 10-20 gallons daily depending on its health as well as its physiological status. Cows that feed on cactus will drink far less water. In places like Mexico, animals started feeding on cactus as early as the 19th century. Even up to date, they still incorporate cactus in their feeds. They first have to burn the thorns ahead of during feeding time.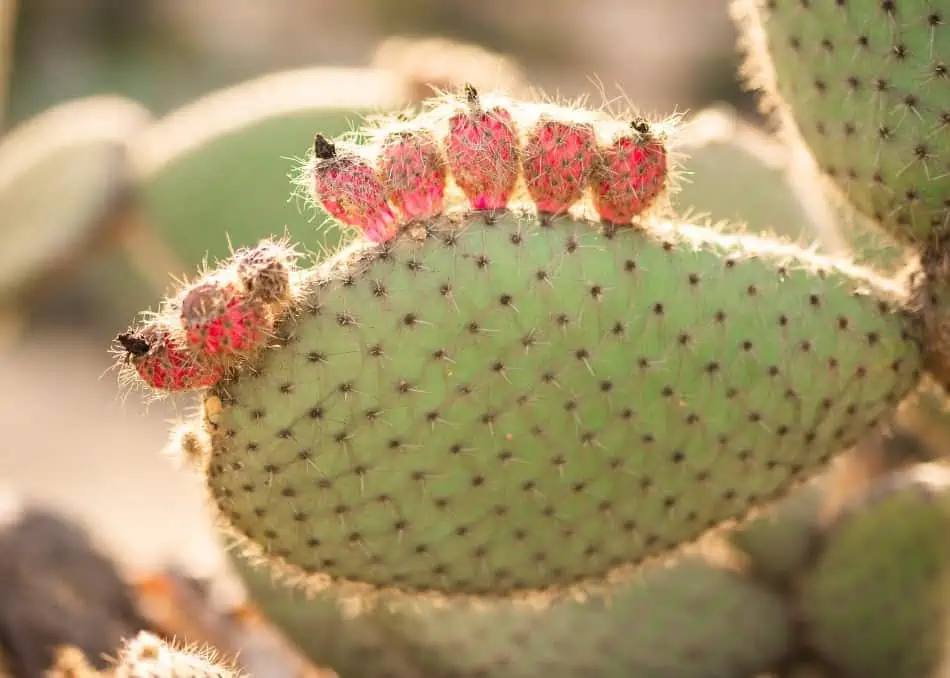 Cactus cladodes have high contents of sugar, Vitamin A & C but are low in fiber and nitrogen. When using cladodes as feeds for livestock, make sure to pay attention to the high water content. Too much of them could cause diarrhea. Complement them with pastures high in nitrogen. 
For feeding purposes, the cactus cladodes can be cut and fed directly to animals, unlike fodder crops that need to be in the form of silage. This prevents wastage.

People eat cactus too. Suprised?
Humans, just like other animals, eat cactus too. Shocked? The only difference is that human beings with a higher Intelligence capacity compared to other animals have devised ways to eat cactus, avoiding their apparent pricky thorns. Furthermore, human beings, unlike camels, don't have a digestive system adapted to eating the prickly cactus.
Cactus has continued to grow in popularity and can be found in Mexico, India, North Africa, Australia, and the Middle East.
The most common type of cactus is the prickly pear, also known as nopal.
Here's how people have come up with creative ways to eat cactus:
1. Used as a vegetable
The pads of the prickly pear are used as a vegetable and are found mostly in grocery stores and farmer's markets. They can be sautéed and used when making scrambled eggs, tacos, or can be used as a side dish with onions.
2. Prickly pear lemonade
You can use cactus to make prickly pear lemonade. All you need is the cactus juice, sugar, lemon, and water. Just extract the cactus juice and lemons then put sugar. Once the sugar dissolves, you can now add water to your liking.
3. Grilling nopales
Yes, you can grill cactus. After cutting the cactus nopales, brush off some olive oil and lemon juice (optional) on them, add spices to your liking and grill them to how tender you want them. They are ready when they get browned.
4. 'Nopalitos con Rajas en salsa verde'
The 'nopalitos con rajas en salsa verde' is a favorite Mexican meal where you cut the cactus into strips and boil in water. After boiling, you then recook them in tomatillos- a traditional sauce. You can eat this with chips.
5. Eating raw
The fruit bit of cactus (the prickly pear) can be eaten raw. If bought at the store, then they don't have the prickly bit. Wash them in about five rounds to remove any remaining hairs. Slice off the outer skin but be careful not to get too close to the seeds. Once the outer layer is out, cut them into slices, and serve. The seeds are safe to eat as long as you don't bite them because they are too hard.
Is cactus associated with the treatment of diabetes?
Cactus has been popular in Mexico for the longest time and has been used traditionally in the treatment of diabetes.
A research was done to determine the effect of nopal in Type 2 diabetes Mexican patients. The research included patients feeding on a high-carbohydrate breakfast with one group, including nopal.
After the meal, the group that ate breakfast with nopal had lower insulin and blood sugar levels.
People with type 2 diabetes are required to eat high-fiber foods as they are known to stabilize glucose levels.
Cactus has high fiber, which is an excellent addition to other foods with high levels of fiber. Nopal juice and powder are available in stores to help diabetic people.

Related Questions
Are there other types of foods camels eat apart from cactus? Given the conditions they live in, most times, camels can't afford to be selective with what they eat. They mostly eat cacti, twigs, and stems. Surprisingly, a camel can go for weeks without drinking water. On average, especially if the water is rare to come by, they can drink water only once every two weeks.
How can you store edible cactus? First, wrap tightly with some clear paper and then refrigerate. You can refrigerate for over a week. When buying edible cactus, make sure to purchase those that are not dry and have no wrinkles. Choose small but firm ones.
How is cactus sold? In most cases, the edible cactus is sold as acitrones. In this case, it is found in sugar syrup in jars. It is also canned and packed in water. Cactus is usually available all year round but is generally in plenty mostly during spring all through fall. 
Last update on 2023-07-26 / Affiliate links / Images from Amazon Product Advertising API