Cactus plants are commonly considered as desert plants. To many people, this means dry areas that record incredibly high temperatures throughout the year. However, the truth is that many deserts are not all that hot and even the ones that are, usually get quite cold at night. Therefore, it is not surprising that cactus plants can survive in cold areas as well. This brings us to the most controversial question about these plants.
Can cactus survive winter? The simple answer to this is yes. While a majority of cactus plants are adapted to living in dry areas, they can still brighten up your indoors even during winter's darkest days. The lowest temperature for any cactus plant depends on its species. While some species cannot tolerate temperatures below the freezing point, others can still survive in temperatures below 0oF.
Many cactus species that survive in very cold temperatures usually expel water at night to ensure the excessive water stored in their roots and stems does not freeze.
In this post, we are going to look at temperature requirements for cacti plants, how to bring them indoors for winter and give you essential tips on how to take care of your cacti during the cold season.
What are the Temperature Requirements of Cactus Plants?
Perhaps, one of the most challenging parts about growing cactus plants outdoors is the worry that comes with the cold winter months. Will your cacti survive the extremely low temperatures and constant rains?
In some parts of the world, temperatures can sometimes drop to below freezing points during the cold winter season. Some parts may also experience extended nights of frost and a significant amount of snowfall.
Typically, in deserts, temperatures fluctuate every day by as much as 68-77oF each day. Sometimes, the extreme maximum temperature can be as high as 120oF while the extreme minimum temperature can be as low as -0.4oF.
Having adapted to these temperature fluctuations in the desert, many cacti species will tolerate low winter temperatures without any problem. However, you must always ensure that your plants are kept dry and receive plenty of light and warmth during the day.
Keep in mind that if subjected to extremely low temperatures with added moisture from snow or frost, your cacti plants may not survive if you don't take steps to ensure they are kept dry and have access to light (even if it is artificial light from your house lamps).
In areas with long, cold winters and relatively short, cloudy days, gardeners must do everything possible to raise the minimum temperature to ensure the survival of their plants.
What is the Optimal Temperature for Cactus Plants?
To answer this question appropriately, you must know what type of cactus you have and its origin. This will help you establish its ideal temperature requirements.
While some cacti species are cold hardy, others may not survive the snow and frost at all. Some species will only do better in full sun with extremely high temperatures while others may need protection from the intense heat.
In general, most cacti species will grow better when kept in temperatures of between 45-55oF
Surviving the Winter Frost: How to Protect Your Cacti from Frost
If you live in an area that is usually hit hard with frost during the cold months, then you need to learn how to protect your precious succulents from potential damage.
Other plants in your home may have adapted well to respond to the cold weather by dying to the ground and shooting out again in spring.
Unfortunately, many succulents, including cacti, don't have this adaptation. Therefore, you need to provide them with special care to help in protecting them from unfamiliar weather conditions.
Follow these simple tips to help protect your cactus plants from frost:

Use frost cloths
High-quality frost cloths can provide adequate protection from the freezing temperatures for some time by trapping the heat and preventing it from escaping out into the cold air. The cloth also helps to prevent cold air from coming in.
Make sure the frost cloth is as close to the ground as possible and provides adequate coverage based on the overall size of your plants. Hold down the frost cloth with strong objects such as stones to stop it from being blown away.
White frost cloths work best because they allow for sunlight to get through the cloth and hit your cactus plants.
Use burlap material to cover your plants
If you happen to have an old burlap material lying idle somewhere in your compound, use it to cover your cactus plants. Sometimes, you may be forced to use at least two layers of burlap if the fabric material is thin.
Burlap is breathable, allows for air circulation, and keeps the cold air out. Leave some room between the plants and burlap to prevent any damage to your plants when the material gets soaking wet.
Use outdoor furniture as cover
Positioning your cactus plants under a table, chair, or any other piece of outdoor furniture during the cold months may be enough during a light freeze.
As long as you are sure the temperature will warm up during the day and your cactus plants will receive plenty of sunlight, this method could be sufficient to protect your plants from occasional light freezes.
However, if you expect more extreme weather such as severe freezing temperatures for several days, make sure you use a covering over the furniture. The cover can be blankets, frost cloths, or even plastic.
When using plastic as a cover, make sure you leave sufficient room between the plants and the plastic cover. Otherwise, the plastic cover can easily fry your plants when the sun comes out because temperatures can rise pretty quickly.
Use heat lamps to raise the temperature
If you want to provide extra warmth for your plants or live in an area prone to severe cold weather, consider using heat lamps. This will help raise the temperature around your plants and prevent them from freezing.
Use a digital thermometer to help you monitor the temperature around your cacti plants. You don't want the temperature to go too high because this can also damage your plants.
The ideal temperature for most cacti species is between 45-55oF. If you can maintain this temperature around your plants, they should be safe from damage.
Move your plants to safer places
If the drop in temperature isn't that big then moving the plants under a shade or any other ideal location to help protect them from the cold wind may be enough.
For instance, if your cactus plants are in a windy spot, move them into a site that receives less wind to help protect them from cold. You can also position them under a large tree or to a mini greenhouse.
No matter where you choose to put your plants, make sure they can receive as much sunlight as possible during the day. But, it is good to keep in mind that this method will only work for hardier and cold-resistant cacti species.
Essential Tips for Moving Your Cactus Plants Indoors During Winter
If you cannot protect you cactus plants from the cold winter conditions or if you live in an area with extremely cold climatic conditions, then you can bring them inside to protect them from the cold.
When bringing your cacti plants indoors, do consider the following
Consider lighting conditions inside your house
One of the primary concerns with keeping cactus plants indoors is adequate lighting. Sometimes, it can be quite challenging to get adequate lighting for your cacti plants when you decide to bring them indoors during winter.
Having been accustomed to sunlight, your plants will need to receive sufficient light indoors to survive. Find a relatively bright or sunny spot inside your house and position them there.
South-facing windows always provide a perfect spot. If you cannot find a bright spot, consider using artificial lighting to keep your plants healthy.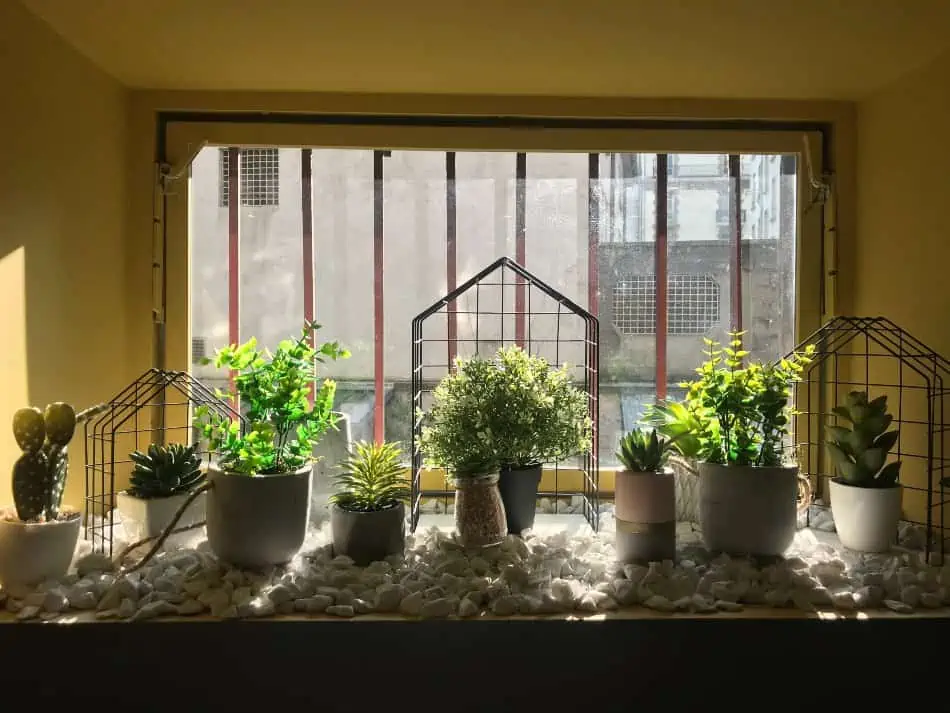 Clean plants of dirt and debris before moving them indoors
Before you bring your cactus plants indoors, make sure you get rid of all the dirt and debris they may have collected for being outside.
Your plants will always have pebbles, little twigs, and grime when left outside for too long. Carefully wipe the dirt off the spines and pull out any unwanted weeds that may have grown in the pot.
Cleaning your plants before moving them indoors helps with the process of photosynthesis. Keep in mind that by bringing your cactus indoors, you are already subjecting them to less sunlight. Therefore, having dusty plants will only block the little amount of sunlight available from reaching the plant.
Consider temperature and humidity
If you have installed a furnace, consider adjusting your thermostat to provide cooler night temperatures. Try not to keep the indoor temperatures too warm.
Strive to provide cooler temperatures during the night so that the plant doesn't suffer a "shock." Plants placed near the vent or any other heat source may die.
Although many cacti species don't mind a dry atmosphere, if you find your indoor environment too dry for your plants, install a humidifier or try putting a pot of water near the plant to help provide the much-needed humidity in the air.
Do not fertilize: As a general rule, don't fertilize your cacti during winter. These plants do not grow actively during the cold season and don't need any fertilizer.
Water sparingly: Also, you do not need to water your cactus plants as much as you do during the hot summer months. Water sparingly and always check the potting mix for moisture before watering again. Always ensure the potting soil is completely dry between watering sessions.
Re-potting: Re-potting may not be necessary unless the plant has outgrown its pot or if the potting mix has broken down and needs replacement. That's it!
Use the right potting mix
When repotting your plants or moving them to a new pot, make sure you use a high-quality cactus potting mix. This type of potting mix is ideal for cactus plants since it provides good drainage and aeration.
It also has the perfect ingredients for cacti plants to thrive. The potting mix will help hold water and nutrients while allowing the roots to breathe.
If you cannot find a cactus potting mix, you can always make your own by mixing two parts of sand with 1 part of potting soil. You can also add Perlite or pumice for better drainage.
How Do You Know Your Cactus Is Under Stress During Winter?
Cactus plants are resilient and can withstand a lot of abuse. However, they will still show signs of stress when they are not getting the right conditions to thrive.
One of the most common signs of stress in cacti plants is wilting or drooping leaves. This usually happens when the plant is not getting enough water or if the humidity in the air is too low.
If you notice your cactus plant wilting, give it a good watering and mist the leaves with water to increase the humidity around the plant. You can also move the plant to a brighter spot or add a humidifier to the room.
Cacti plants can also suffer from root rot if they sit in water for too long. This usually happens when the potting mix is too dense or if the pot does not have drainage holes.
If you notice signs of root rot in your cactus, carefully remove it from the pot and replant it in a new pot with a fresh, well-drained potting mix.
Your cactus plant may also lose its color if it does not get enough light. If you notice the leaves of your cactus turning yellow or pale, move the plant to a brighter spot.
Cacti plants that are under stress will also start to produce fewer flowers. If you notice your cactus isn't blooming as much as it used to, check the environment around the plant and ensure it is getting the right conditions to thrive.
Summary
While many cacti species are adapted to the hot desert conditions, it doesn't mean that they will die when exposed to the cold winter conditions. In fact, some cold-hardy cactus plants are well-adapted to survive in cold conditions than the hot desert conditions.
The most important thing is trying to understand your cacti species and what it needs to survive the colder months.
We hope this post has provided you with helpful information that can help you take care of your cactus plants during the cold months. Just remember to take your plants out of their winter barracks and into the great outdoor conditions once the sky clears up and spring kicks in.

Last update on 2023-07-26 / Affiliate links / Images from Amazon Product Advertising API