Most of us love indoor plants because they make interior spaces feel prettier, greener, and brighter. Indoor plants also purify the air and promote feelings of inspiration and happiness. They reconnect us with nature and remind us of the need to preserve our environment. However, most plants need water, sunlight, and air to grow. So, what happens if you live in a house that doesn't receive plenty of sunlight? Does it mean you cannot have indoor plants? The answer is "no."
Some indoor plants don't need direct sunlight to thrive. There are plenty of low-light plants that you can grow indoors. They include bromeliad, cast iron plant, spider plant, snake plant, parlor palm, dracaena, and many more. These plants are great for spots in a room that need touches of green but don't receive plenty of direct sunlight for most indoor plants to survive. These plants can survive in low light conditions quite comfortably while others only need artificial light to thrive.
In this post, we look at some of the most famous low-light indoor plants that don't need the sun to survive. You can pick any of them when you want to add some green touches to your home, but your indoor spaces don't receive plenty of sunlight.
So, let us get started.
1. Bromeliad
Bromeliad is one of the most common tropical plants that usually come with a vibrant pop of color. Their tropical feel and unique appearance make it an excellent houseplant choice. This plant looks best on tabletops, shelves, or even the floor, depending on the species you choose.
Over the years, bromeliads have adapted to average home conditions attracting much attention from homeowners. Their showy flower displays create a beautiful show. They have strappy leaves with bands, spots, stripes, and other features.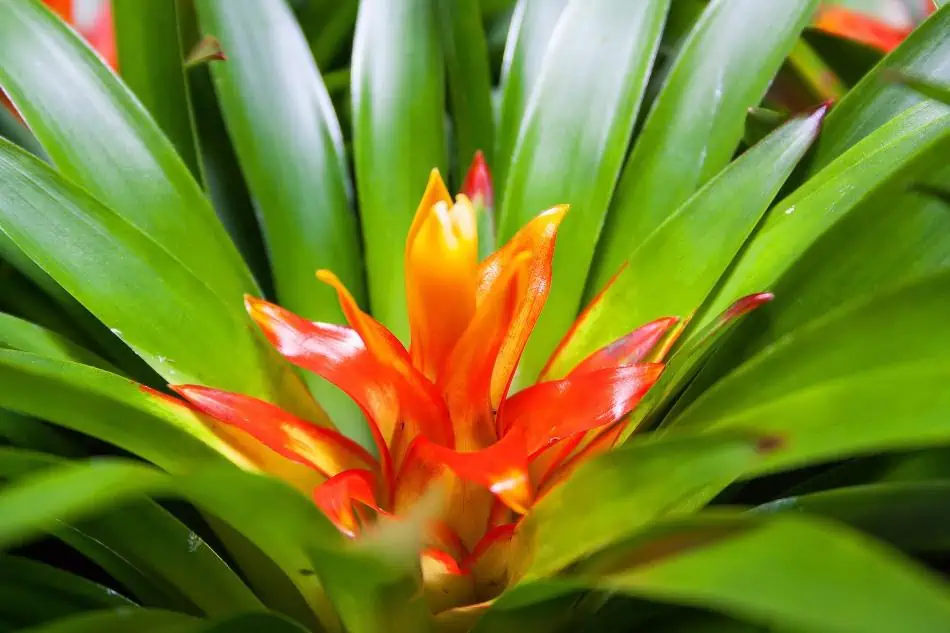 Their leaves can be yellow, orange, purple, red, or green. Bromeliads are more tolerant to careless feeding, fluctuations in temperature, and drought. In the natural environment, bromeliad plants are usually epiphytic and cling to trees and other structures.
However, they are not parasitic and only use other plants for support and to reach direct sunlight.
When growing bromeliads indoors, you need to keep in mind that they don't need deep containers or thick potting mix. In most cases, they do well in relatively shallow containers and may still thrive in low potting mix mediums such as sphagnum moss, orchid mix, and other soils.
The plant doesn't require special fertilizers to thrive. All you have to do is feed it with half-strength fertilizer once every month. For water needs, fill the cup at the base of the leaves, and you are good to go.
Water that may collect in the pot must be emptied every week to eliminate dead insects and debris that stagnant water attracts into the cup.
2. Cast Iron Plant
The cast-iron plant is a relatively hardy plant that can endure unfavorable conditions. The plant usually thrives in a wide range of conditions, including low light areas. In fact, keeping them in direct sunlight can easily scorch and burn their beautiful leaves. They require very little maintenance to survive and thrive.
However, the cast-iron plant is extremely slow to grow. This makes it a perfect choice for forgetful or busy plant owners who won't have a lot of time to take care of them. The plant's rich green leaves provide you with a perfect way of adding a natural touch of greenery to your indoor spaces.
When grown outdoors, the plant usually produces slightly creamy purple flowers near the base, but the blossoms rarely appear when the plant is grown indoors. The cast-iron plant is always green and can handle deep shade along wall foundations or under deck stairs that receive almost no sunlight.
The plant tends to grow during the hot summers and hibernates during winter. Insects don't like it, and it is rarely bothered by any diseases. Its leaves are upright and strappy and grow from an underground rhizome.
The only threat to cast iron plants is too much water and direct sunlight. It dislikes waterlogged potting mix and exposure to direct sunlight. When exposed to these conditions, the plant's leaves will start to turn yellow, and then brown, before it eventually dies.
3. Snake Plant
The snake plant is incredibly tolerant to neglect and tends to do well when tucked into one of the corners of your house, far away from the window. The plant has stiff leaves that range from slightly six inches to over eight feet tall, depending on its variety.
The plant is a member of the Asparagaceae family, a close relative of the asparagus plant. It is native to China, where it is highly treasured because many people believe that the gods bestow important virtues upon individuals who grow and take care of the plant.
The plant is also among the few plant species chosen by NASA for a scientific study on how houseplants can be used for air purification and how they eliminate the "sick building syndrome."
According to joint research run by the Institute for Environmental Research at Yonsei University in South Korea and the Department of Horticulture at the University of Georgia in the United States, the snake plant has demonstrated a unique ability to remove benzene and formaldehyde from the air.
Growing snake plants from cuttings is relatively easy, but the most crucial thing you need to remember is that the cuttings can easily rot. To avoid rotting, ensure you use free-draining soil.
Once you have propagated your snake successfully, put it in indirect sunlight and avoid overwatering, especially during winter. In fact, it is always good to let the plant dry out between watering. If the plant is in a pot, consider applying a little general-purpose fertilizer.
When potting/repotting the plant, choose a relatively sturdy material because its strong roots can easily break fragile pots. The snake plant is generally slow-growing and rarely needs repotting, but if you expose it to ample sunlight, it might grow quickly and require dividing or repotting annually.
4. Parlor Palm
If your preference for indoor plants is more Bohemian, the parlor palm is the perfect choice for you. Also known as the "good luck palm," this plant will add good vibes to your indoor spaces and make you feel better.
The plant is a relatively slow grower that can only reach three feet high or six feet high if you dedicate yourself to repeated repotting.
Like most tropical plants, the parlor palm thrives in slightly warm and humid spots. Therefore, be sure to mist them or position them strategically on a tray filled with moist pebbles.
The plant was first discovered in Central America and transferred to the United States, where it immediately became a popular indoor plant.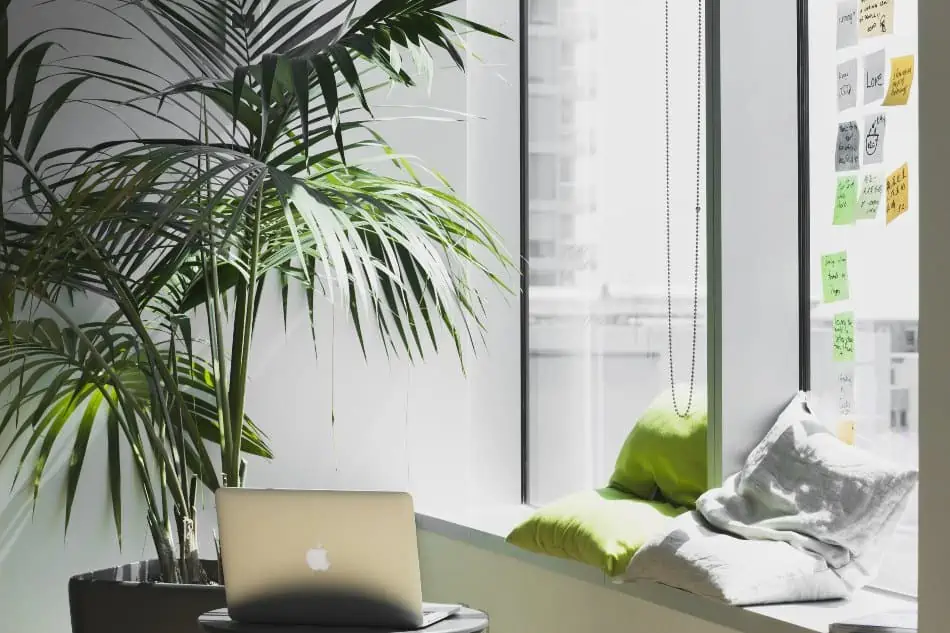 Besides being adapted to relatively low light, it can also handle lower temperatures quite well and grow into beautiful clumps with light-textured leaves cloaking its thin trunks.
Since it is tolerant to low light and quite sensitive to excess water, it is the perfect choice for gardeners who are forgetful or too busy to take care of their indoor houseplants regularly.
However, the parlor palm is highly vulnerable to pests such as mealybugs, whitefly, and aphids. It is always crucial to inspect the plant regularly to identify pest infestation signs as early as possible and treat it with the least toxic option.
5. Dracaena
The dracaena is one of the most popular houseplants that are easy to care for in your home. The plant comes in a wide range of varieties and looks excellent on your tabletops, shelves, and floor décor. The relatively large varieties, such as the dracaena massangeana, have a tree-like appearance and work especially well when used as floor décor.
It thrives in bright, indirect sunlight but can still survive in medium and low light if need be. The plant has excellent air purification properties and can filter out some of the toxic elements from the air.
The stems of a dracaena plant are known as canes and can be pruned at any point to keep its size under control. The plant can grow up to ten feet high, so pruning is essential. When you prune the plant, new leaves will grow below the cut after a few days.
Care for this plant involves keeping the soil moist but not soggy. Yellowing or drooping leaves indicate overwatering or poor drainage. Appropriate fertilization is also part of the plant care routine.
Typically, dracaena requires feeding every two weeks in spring and summer. However, you need to reduce the fertilization rate to once a month during fall and stop feeding the plant completely during winter.
6. Chinese Evergreen Plants
The Chinese Evergreen plants are relatively easy to care for and are fairly resistant to pests or diseases. They usually have leathery, dark green leaves with white and gray veins like a jigsaw puzzle on the foliage.
The plant does well in low to medium light but prefers bright indirect sunlight during summer. During winter, you can keep it away from direct sun. In fact, artificial lights are enough to keep it healthy and happy.
Chinese Evergreen plants are incredibly hardy plants, making them ideal for beginners. They require consistent watering and can tolerate short periods of drought.
During the growing season (spring to summer), water your plant weekly, allowing the soil to dry out in between watering sessions.
Overall, the Chinese Evergreen makes a great low-light option for anyone looking to add plants with beautiful color and texture to their home.
7. Peace Lily
Peace Lilies are among the most beautiful and easiest to care for house plants. They are tough, low-maintenance, and love shade. Peace lilies thrive in indirect or filtered light and don't need direct sunlight to survive.
These plants require weekly watering during the summer when they are actively growing. During winter months, you can water them every two or three weeks. Overwatering can cause root rot, so ensure the soil is completely dry between watering sessions.
Peace lilies are incredibly tolerant of low-light conditions and will bloom flowers in darker areas around your house.
Their white blooms help to purify the air by reducing harmful toxins like formaldehyde, benzene, and carbon monoxide.
Peace lilies are also very resistant to pests and diseases and can be grown in average indoor temperatures of 65-75°F (18-24°C).
They can sometimes suffer from overwatering or too much fertilizer, but they are otherwise hardy plants that require minimal effort to keep them happy.
8. Spider Plants
Spider plants usually grow in relatively cold and wet conditions and are incredibly tolerant of low light or total darkness.
These plants have a wispy appearance due to the thin green leaves that stretch out from their central stem, resembling spiders' legs.
Spider plants enjoy regular watering in slightly acidic soil (between 6.5-7.0). Your spider plant will generally be happy if you allow soil to dry out between watering sessions.
These plants prefer bright indirect light and temperatures between 65-75°F (18-24°C). If you expose them to direct sunlight, they might suffer leaf damage.
The best way to prevent this is by shading them with sheer curtains or by placing them in the corner of a room, away from direct sunlight.
Spider plants often sprout small, white flowers during warm seasons like spring and summer. These flowers eventually turn into tiny spider plantlets that you can pluck from the mother plant and propagate independently.
These plants are also incredibly effective natural air purifiers, filtering the air of toxins like formaldehyde, benzene, and carbon monoxide.
Summary
Now that you know some of the houseplants that don't need direct sunlight to survive, you should go out there and acquire one that suits you. Just make sure you take good care of the plant, and you will end up adding the right touches of green to your indoor spaces.
If you are having trouble deciding on the right houseplant, seek expert advice from your local plant nursery. We hope you enjoyed reading this post and you will be back for more. Feel free to share this post with your friends, leave a comment and subscribe to our email list for the latest gardening tips and tricks.
Last update on 2023-10-05 / Affiliate links / Images from Amazon Product Advertising API