Disclaimer: The author is not a medical doctor or veterinarian. The information presented is purely to share our experience and for entertainment purposes. As always, check with a doctor and/or veterinarian before making any health or nutrition decisions and consult with a doctor and/or veterinarian regarding any question or problem that you have. The author and blog disclaim liability for any damage, mishap, or injury that may occur from engaging in any activities or ideas from this site.
Have you been considering buying a potted cactus plant since it requires very little maintenance? With any home addition, have you considered the overall effect that it will have on your cat? Well, we have the answers to whether the plant is safe for cats.
Is cactus poisonous to cats? Cactus is not poisonous to cats. Unlike some houseplants that contain dangerous compounds that may have adverse effects on your cat, this plant is harmless. However, bear in mind that the plant has spines that may accidentally injure your cat.
Cactus in Relation to Cats
According to PetMD, there are specific flowers and plants that poisonous and can harm your cat. The plants can cause inflammation of the mouth, skin, or stomach. On prolonged exposure, these toxic plants can lead to failure of major organs like the liver, heart, or kidney. Cactus is not on that list:
Examples of toxic plants to cats:
Lily of the Valey
Castor beans
Azaleas
Amaryllis
Autumn crocus
Cyclamen
Chrysanthemum
Daffodils
English ivy
Dieffenbachia
Devil's ivy
Hyacinth
Fortunately, cactus isn't on the list. Therefore, you can go ahead and give a home a contemporary look using this plant.
There's a common misconception that cacti can only survive in the hot and desert climate. The assumption couldn't be further from the truth. Cactus can survive anywhere, they can grow in environments that are complete opposites of the desert. Examples of unlikely places where the plant can thrive are rain forests or even areas like northern Canada where there's a wet climate.
The cactus is a succulent plant that quickly adapts to different climates for survival. These plants are ideal for indoor as well as outdoor landscaping.
The most beautiful thing about this plant is that it needs very little maintenance. Unlike most plants that need plenty of attention, this plant thrives with minimal care.
As much as cactuses aren't toxic to cats, the animals can chew on them, and you may end up with stubs in place of the gorgeous indoor or outdoor plant. Then there's the mess that you always have to clean up because your cat doesn't eat and swallow everything it bites.
Why your cat could be attacking your cactus plant?
If you're curious to know why your cat may be biting or hitting your plants, here are a few reasons why the cat won't leave the plant alone.
The reasons might help you understand your pet better, and in some cases, help you identify deficiencies in your pet.
Curiosity killed the cat
Cats are naturally curious. You might have heard reference to the idiom, "curiosity killed the cat," which depicts that a cat will go to extreme lengths to quench its curiosity.
Your cat might have gotten familiar with different house plants around your home, but the cactus plant could be an unusual one in many home settings.
There are the spikes, then the ever-swelling stems and branches whenever you water the plant all which could be arousing your cat's curiosity. Your cat might just be trying to figure out this plant, and might punch it or even bite it from time to time to see its reaction.
The need for roughage
As much as cats are true carnivorous animals, a little fiber doesn't hurt as it aids indigestion. Therefore, as much as your cat might bite your cactus, they might not like the taste and might end up spitting it. If they happen to swallow some of it, there's no harm as that could offer a little fiber in their diet.
However, you have to get very careful with the amount of fiber your cat consumes as too much is not suitable for your cat.
Since cats are carnivorous, they thrive on proteins, and too much fiber might deplete the amino acids present in the body. If you notice that your cat has constant diarrhea, it might be swallowing too much cactus.
Thirst Quencher
The succulent plant can store gallons of water at a time. The plant's leaves, roots and even stems have specialized in water intake and conservation.
Research shows that this plant conserves more water than it loses during photosynthesis or evaporation during hot weather. It's no wonder these plants always look turgid and succulent, the reason they could be attracting your cat.
Ensure that your cat has adequate water to drink all the time. The habit will discourage the cat from quenching its thirst using your cactus.
Lack of nutrients
Sometimes cats may turn to eat soil if their diet is lacking in some essential nutrients like iron or calcium. In its quest to try and reach the soil, your cat may end up biting on your plants, leaving them looking unsightly.
If you notice that your cat is always trying to reach for the soil in your cactus, it's best to visit your nearest veterinarian. The veterinarian will do a thorough evaluation of your cat, and advise you on mineral deficiencies that your cat may be having. The doctor will also advise you on the best sources of the minerals, and may also give you some supplements to take home.
Craving for different textures
The cat mostly eats meat, and the texture of your cactus may appear appealing. Your cat may want to bite on the plant to experience how it feels.
Itchiness
Cat's love to rub their fur on anything in sight. If your cat is feeling itchy, it may try to rub its hair against the plant for relief.
Your cat's teeth might also be itch from infection resulting in gum disease or tooth decay. Take your cat to the dentist for evaluation, and the vet will advise you on how best to take care of your pet's teeth.
How to keep your cat from cactus
If you're worried that your cat keeps damaging your plants, you might be looking for safe ways to keep the cat away from the plant. The following are safe ways to keep your cat away from your cactus:
1. Offer alternative greens
Some cats are attracted to anything green and will have no choice but to eat your plant if that's the only option available. Try offering your cat some kitty grass or even lettuce. Chances are your cat will not turn to your cactus after eating a few greens now and then.
You can get kitty grass from the local pet store. Alternatively, your veterinarian can give you supplements that have the minerals and vitamins present in the grass, which you can mix with cat food.
2. Ensure that you have a litter box in the house
Cats will try to turn anything into a litter box if there's none in sight. Before you buy your plant, buy a litter box and train your cat to go there otherwise they'll turn your favorite house plant into the litter.
3. Try putting your plant in unreachable places
If your cactus has ever pricked your cat, the cat won't forget that any time soon. Your cat will try to punch and pull at the plant at any given chance, and this might cause a lot of breakages.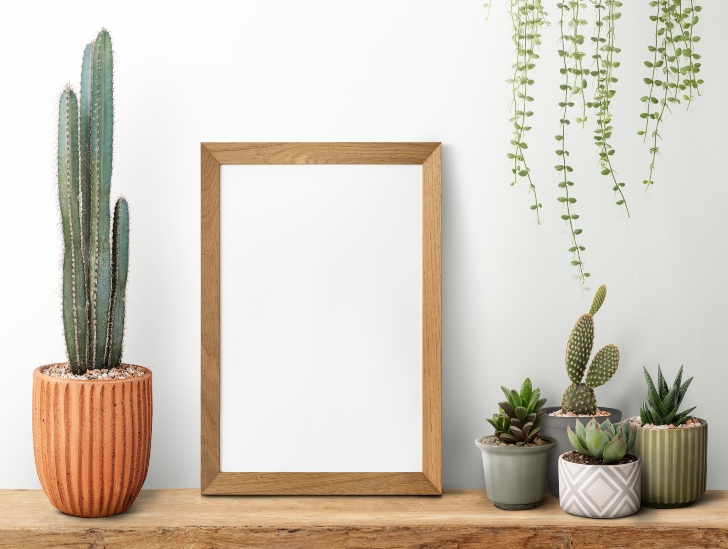 Try putting your plant in a place where your cat can't reach. For instance, you can build a small shelf a few meters above the ground. Ensure there's no way your cat can use nearby furniture to scale and get to your succulent.
Another perfect way to keep the plants away from your cat's reach is to hang them in baskets. There are beautiful baskets available in home improvement stores, and these will not only keep your feline away but will also add beauty to your home.
4. Make our plant's smell unappealing to the cat
A cat's sense of smell is very high. It's, therefore, paramount to take advantage of scents when trying to discourage your cat from going anywhere near your cactus.
There are some smells that cats don't like, such as citrus or cayenne pepper. Please avoid using concentrate citrus such as detergents or oils as these could harm your plant.
Orange or lemon peels work wonders, and these are perfectly safe for your plant. Just scatters a few peels around your plant and this will guarantee no cat in sight.
As for cayenne pepper, sprinkle a little bit around your plant. One whiff and your cat will avoid this plant like the plague.
5. Spray your plant with vinegar
A vinegar-water solution is yet another way to keep your cat away from your plant. Mix three parts of vinegar and one part of water, then spray this on your leaves.
Related Questions
Are all succulents poisonous to cats?
Not succulents are toxic to cats. Some like the cactus are perfectly fine, while others can lead to serious health problems in cats. Examples of succulents that can harm your cat are; Crown of Thorns, Aloe Vera, Pencil Tree Plant/firestick, Silver Jade Plant, chandelier plant, snake plant or string of pearls plant.
What are other cat-friendly succulents aside from cactus?
There are plenty of options non-toxic succulents that are safe for cats. Examples of plants that won't harm your feline are; burros train, Christmas cactus, zebra Haworthia, Opuntia species, and echeveria. Some toxic and non-toxic succulents may appear similar to the untrained eye; hence, it's paramount to do your research before buying one, to be on the safe side.

Last update on 2023-10-05 / Affiliate links / Images from Amazon Product Advertising API