Aeonium is a succulent genus consisting of approximately 35 different species of plants that belong to the Crassulaceae family, which also features the beautiful Echeveria plants. The succulent is native to parts of Morocco, Madeira, and the Canary Islands. Thanks to their magnificent floral display, they are also common houseplants in many homes. While growing aeonium at home is pretty easy, most gardeners are split on the issue of the right light requirements for the succulent. Does it require exposure to direct sunlight, or can it survive in partial shade? Let us find out.
So, does aeonium need direct sunlight? The simple answer is no. While this plant does well in spots that receive plenty of bright, direct sunlight, it can still tolerate partial shade without any problems. Typically, the succulent requires exposure to at least six hours of full sun a day to develop its beautiful leaf colors. If you live in an area that doesn't receive plenty of sunlight, consider supplementing your plant's light requirements with artificial grow lights. However, you need to be careful with exposing aeonium to full sunlight because it is susceptible to sunburn.
Do you want to learn more about aeonium and whether you can expose your plant to direct sunlight? Read on to find out everything you need to know.
Aeonium Light Requirements
Before we dive deep into discussing whether aeonium can withstand direct sunlight or not, it's first essential to understand the plant's general light requirements.
Generally, aeonium does best when it receives bright, indirect light. This means they should be placed in a spot where they will get several hours of sunlight each day, but where the light is not too harsh – typically six hours of sunlight.
This can be tricky to achieve indoors, so if you're not sure whether your plant is receiving enough light, try moving it to different spots within your house and monitor the reaction.
Find a spot on a south-facing or east-facing windowsill and position your plant there. Be sure to rotate it frequently to facilitate even growth of the plant.
If you start to notice your plant's leaves turning yellow or brown, then it is a clear sign that your aeonium is not getting enough light and should be moved to a sunnier spot.
Can Aeonium Withstand Direct Sunlight?
Now that we know a bit about aeonium light requirements, let's discuss whether they can withstand direct sunlight or not.
The answer is: it depends.
Some aeoniums can withstand direct sunlight without any issues, while others may start to wilt or burn if they are exposed to too much sun.
If you are unsure whether your aeonium can handle direct sunlight, it's best to err on the side of caution and keep it in a spot where it will receive only indirect light.
However, when your plant is overexposed to direct sunlight, it may suffer extensive sunburn that can be pretty challenging to reverse. We cover more about aeonium sunburn below:
Can Aeonium Suffer Sunburn?
The simple answer is yes. If you set your plant in a spot that constantly receives prolonged hours of direct sunlight, your plant may develop sunburn over time.
It can be disheartening to discover that your precious aeonium has developed sunburn, but whether the plant survives or dies will depend on how quickly you act after the discovery.
While serious sunburn can put your aeonium's life at risk, minor sunburn can be dealt with before things get out of hand.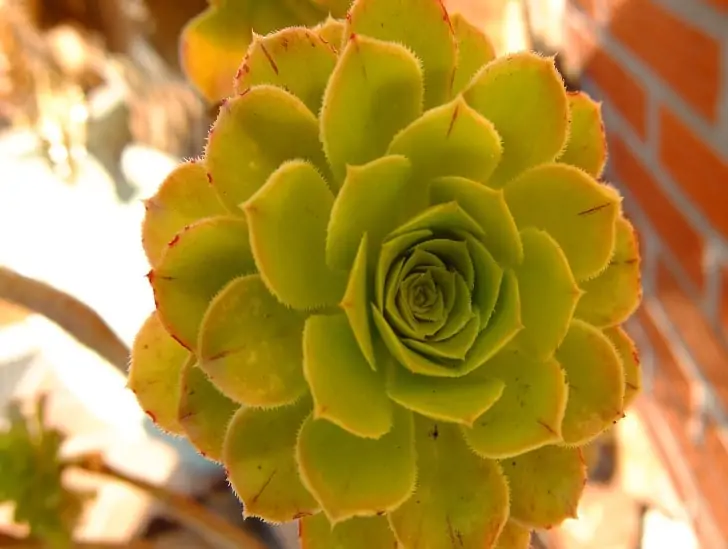 However, before you decide what to do with your sunburned aeonium plant, it is critical to recognize the signs of sunburn in your plants.
Typically, sunburned aeoniums develop a series of discolored patches on their leaves. These patches can be black, brown, or yellow, depending on the severity of the sunburn.
If only part of the succulent was overexposed to the direct sunlight, the patches might only show on the parts exposed to the sunlight. Typically, the more severe the sunburn, the darker the discoloration.
The discolored patches on the leaves of your aeonium plant may also have a different texture than the healthy parts of your succulent. If your plant's leaves typically have a smooth surface, you may notice that the sunburned patches feel slightly rough.
Minor sunburns may cause little to no change in texture, but a severe burn will definitely make your plant's leaves feel rough and scarred.
How Can I Avoid Sunburn on My Aeonium without Depriving It of Enough Light?
The best way to avoid sunburn on your aeonium plant is to adhere to its light requirements. Generally, the succulent can thrive in direct sunlight and adapt to different light intensities.
During spring and summer, you need to be careful with introducing your plant to direct sunlight after the cold winter months. Instead of taking your aeonium directly from a relatively dark spot to direct sunlight, make the process gradual.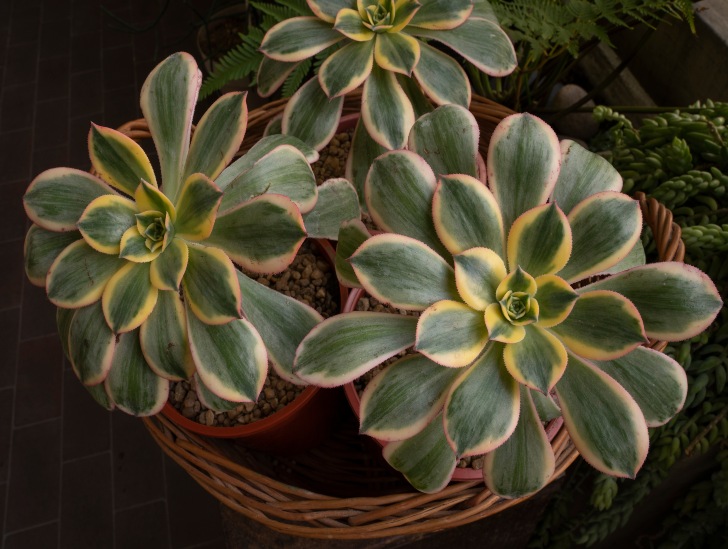 Start by exposing it to the morning sunlight for a couple of hours and gradually increase the number of hours overtime.
Keep switching the plant between partial shade and full sun until it fully adapts. If moving the plant is not an option for you, consider covering it with a shade cloth. Gradual introduction to direct sunlight will eliminate the risk of it being shocked and sunburned.
You also need to consider a few environmental factors when exposing your aeonium to direct sunlight. Remember that direct sunlight can dry your succulent out pretty fast, putting it at a higher risk of sunburn.
The water loss caused by the relatively high temperatures makes your plant more fragile and susceptible to sunburn. Aeoniums planted in pots are slightly more likely to dry out than those planted in the ground.
This is because aeoniums planted in-ground benefit from the naturally cooler temperatures underground. Growing pots tend to heat up quickly, especially in direct sunlight, which increases the evaporation rate.
To keep your aeonium from drying out quickly, water it regularly to maintain cool temperatures. But you need to be careful not to waterlog your succulent because it can lead to serious root rot issues.
Frequent watering allows the succulent to soak up as much water as possible without worrying about the water that will evaporate before filling up its reserves.
Can Aeonium Recover from Sunburn?
The best way to deal with sunburn on your aeonium is to prevent it. If you don't take good care of your plant, allowing it to develop sunburn, recovery will largely depend on how severe the damage is.
If the sunburn is light and hasn't affected a large part of your plant, quick intervention can stop it from spreading and becoming worse. The only thing you need to do is move your plant to partial shade and water it frequently.
However, if the sunburn is more extensive, recovery may take a while. In such a case, you need to move your plant to partial shade and keep a close eye on it.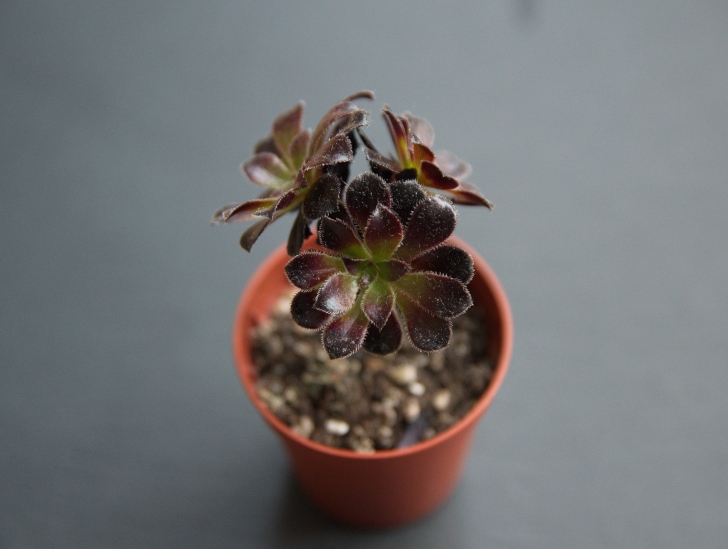 Sometimes, you may be forced to treat sunburn to save your plant. Treating involves moving the aeonium to a relatively shady area and regularly spraying it with cool water to keep it hydrated.
If you notice signs of drooping leaves or wilting, be sure to add some mulch around the base of your plant to help it in retaining moisture.
If the sunburn hasn't caused wilting or drooping of leaves, feel free to bring your aeonium back into the sunlight as long as you keep it under partial shade.
Can Aeonium Receive Too Little Sunlight?
Naturally, aeonium is a sun-loving succulent and will start to show signs of distress if it doesn't receive enough sunlight.
If your aeonium isn't receiving enough sunlight, you'll start to see signs of unhealthy growth.
The most common sign of too little light is etiolation. The process of etiolation forces your plant to stretch out in the direction of light. The stretching will make it grow tall and become leggy.
If you notice signs of etiolation in your plant, the best thing to do is move your plant into a sunnier spot. Typically, when etiolation is happening, your plant is getting stressed out from trying so hard to find a source of light.
However, it is good to mention that etiolation will only happen when growing the succulent indoors. It is very rare when growing these succulents outdoors because there is light in all directions.
Etiolation will only happen outdoors if you have grown the plant under full shade, which is not recommended.
So, before you pick a spot in your backyard garden for this succulent, make sure there are no tall plants or other obstacles around that can stop it from receiving plenty of direct sunlight.
Summary
Aeonium can tolerate a fair amount of direct sunlight, but it's essential to be careful not to over-expose it. If you're ever unsure about how much sun your aeonium is receiving, err on the side of caution and give it a little less light rather than too much. With a little bit of care, your aeonium will thrive under the right conditions!
Last update on 2023-07-26 / Affiliate links / Images from Amazon Product Advertising API