Has your succulent been growing like crazy? What should you do if you notice signs of distress in your succulents? Being a plant parent is hard, interesting, and fun all in one, and that's why I'm here.
There are nearly a dozen things that could go wrong with your innocent little plant! Before you start feeling overwhelmed, here are nine signs that you need to cut your succulent.
1. You Noticed Some of Your Succulent's Leaves Are Dying
So you noticed some of your succulent leaves are either looking discolored or wilted. There's no need to panic, as this is a fairly easy fix.
This could have happened for different reasons, including:
Overexposure to sunlight
Not enough water
Bugs!
Trying to narrow down the cause of the deaths can help make sure your plant stays healthy in the future. Maybe it needs to be moved to a shadier area or watered more often!
Regardless of the reason, if your plant's leaves are dead, it is best to cut off the dead leaves. It's important to remember that a few dying leaves are totally natural and expected with any succulent. Over time, some of the leaves die, and others will regrow and replace them. This is why if you notice some dead leaves, it's totally okay to snip them off!
2. Your Succulent is Under Attack from Root Rot
Have you taken a look at your succulent's roots lately? Maybe you noticed they look a bit darker than normal. That's definitely not good.
The typical reasoning for root rot is overwatering. You may not have even noticed you were doing it, and in that case, it may not be too late! If you catch root rot early, you can attempt transferring your plant into a new pot with fresh and dry soil.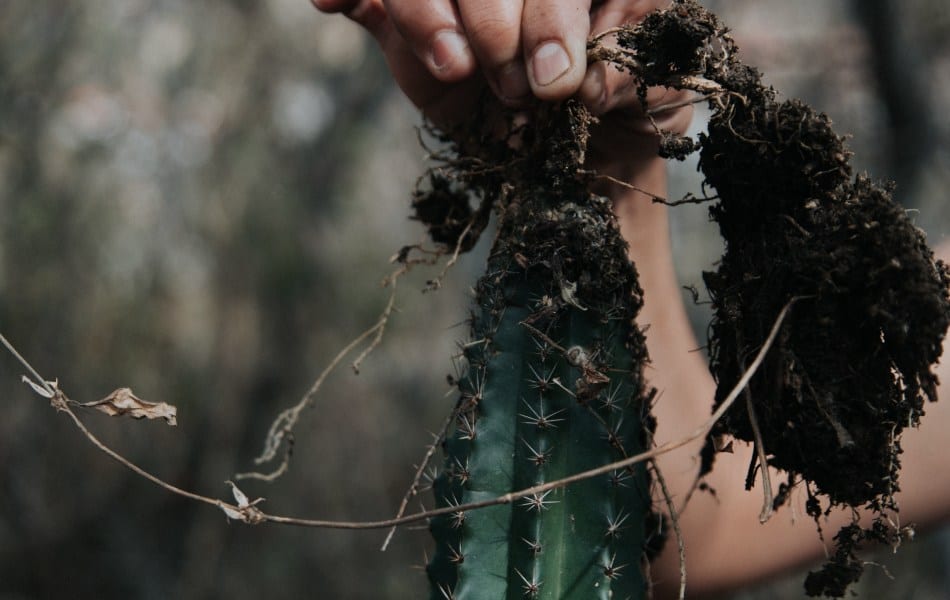 It's important that you clean off any old and moist soil from the roots during the transfer as well. This will give your succulent the best fighting chance.
Lucky for you, even if you didn't catch it early, there is still hope! It is now time to behead your succulents and remove the rotted roots. Plant the "head" part of the plant in a fresh pot, and be careful with the water!
3. One of Your Succulent's Stems Broke
If one of your succulent stems broke, it's not the end of the world. Try figuring out the cause of the issue. Stems do just break off, and there is nothing that could have been done about it. Sometimes Mother Nature is involved, and oftentimes gravity plays a big part.
If you have a stem depressingly drooping off of your succulent, cut that thing off! The coolest thing about a succulent is replanting it! If the stem is still alive, you will be able to replant it with some water and dirt. Slowly, roots will regrow over time. How cool is that?
4. Your Succulent Got Way Too Big
Often, succulents are used as decorative pieces on the interior of your home or on desktops. So what do I do if my succulent gets too big?
It will help to realize why the succulent grew too big as well. Is it in direct sunlight? Try moving it to a different spot, as too much sunlight or water could do this to the plant. If indoors, the plant may be moving and stretching itself out as well.
If your succulent has gotten too big over time, it is no worry at all to chop it back a bit. After pruning to your liking, you can even collect the clippings and regrow them into a whole new plant, given time! So don't worry about it. Cut that plant, and make sure to save those leaves and clippings!
5. Your Succulent is Physically Damaged
Physical damage can come from several different factors, the biggest being… Bugs! If your succulent is getting physically damaged, it must be either from:
The wind
Wildlife
Pests
Human interaction
Pests are the biggest contributor to physical damage on this list. Melee Bugs, Spider Mites, and Fungus Gnats are pests popularly attributed to a succulent plant. Mice, Voles, and Squirrels have also been known to go for these plants when in an outdoor setting as well.
If pests are on your succulent, try repotting it with fresh dirt and moving it to a different location. Spraying Vinegar, Bleach and Mint have all been said to work on solving these issues. Lucky for you, a broken stem is not the worst thing that could have happened.
6. Your Plant is Stressed, and so Are You
Is your plant stressed out? Stress comes in different shapes and sizes, as we all know, but there is no need for you to be stressed as you have come to the right place! Plants getting stressed are common and natural and often easily fixable.
Stress can come from different sources for a plant, but most often, elevated stress has to do with the temperature of the plant. Make sure your succulent remains at an ideal temperature of 60-80 degrees Fahrenheit. Cold temperatures have been known to stress all sorts of plant life out, which is why it is important to keep it its ideal temperature.
Stress can also come from the environment. Messing with your succulent too much can be harmful. Too much touching and cutting and unnecessary bending will put additional stress on your plant.
Stop messing with your succulents too much and make sure it stays in that temperature range, and your plant will be calm and relaxed.
7. Your Succulent is Elongated
Succulent's being elongated is actually quite common. As most are kept indoors, they will yearn for light and try to stretch out to find some. This gives you an elongated and awkwardly tall succulent plant.
You may have also noticed:
Lighter colored leaves
Smaller leaves than normal forming on the plant
The extra spacing between the leaves
Bending of the plant
These are sure signs that your succulent is elongated. As natural as it is for a plant to bend and look for a light source, not all of us are in love with how that appears.
It's absolutely okay to chop the head right off your elongated succulent. Behead the plant and start another one. Chop it down to a size of your choice and try to move the plant to an area where it can receive some more light, to avoid it happening again.
8. Your Succulent Grew an Antenna and Looks Like an Alien
Are you staring at your succulent, wondering where in the world that long antenna-looking thing came from? You are definitely not alone. The antenna comes about for the same reasons as your plant being elongated. All it means is your plant has been working extra hard to try to reach sunlight. 
Plants, even indoor ones, need sunlight to survive. Without sunlight in a room, your succulent will bend and twist and reach as far as it can, attempting to get some bit of sunlight. Cut that antenna off, and yes, even that part will regrow a new plant too!
9. You Want a Free Succulent
If you want a free succulent, and you already have one (or knows someone who does), then you're in luck! Beheading a succulent is totally natural, just like discussed earlier. The thing is, there doesn't have to be anything wrong with the plant to behead it!
Maybe you just want a second succulent, or maybe you wish to give one to a friend. Maybe you're growing an army of succulent plants and want thousands! Either way, all you need to do is behead your succulent. Beheading it or cutting off branches/leaves and placing them in fresh soil and water will result in a new baby succulent!
Whether you need to or want to, cutting your succulent is almost never the end of its life. Watching a succulent regrow many times over is a beautiful thing to watch, and the best part about the plant.
Last update on 2023-07-26 / Affiliate links / Images from Amazon Product Advertising API