Almost every gardener desires to have a string of pearls on their succulent collection. However, owning this stunning plant requires the right watering habits to keep it alive. Getting the watering right is crucial to its survival because the plant is highly susceptible to root rot caused by slow draining soils and overwatering.
So, what are some of the golden rules of watering a string of pearls plant? The most important thing you need to keep in mind is that string of pearls plants are drought resistant and should only be watered when the potting mix around the roots has dried completely. Typically, you should water your plant once every two weeks. Use the right watering method and the right water type all the time. Consider watering your string of pearls plant early in the morning or at night when the plant is dormant.
This article discusses everything you need to know about watering a string of pearls plant. Read on to learn everything you need to know.
1. Understand How Often You Need to Water String of Pearls Plants
Like other succulents, a string of pearls plant has a wide range of special adaptations that help them to grow in desert environments. Their leaves are shaped like "pearls" to maximize each leaf's amount of water storage and limit the overall surface area for water loss.
Since these plants are adapted to growing in hot and dry conditions, they are highly susceptible to overwatering. To grow a string of pearls successfully, it is crucial to replicate the watering conditions of their native desert environment by giving them what is just enough for their survival.
You should only water your string of pearls when the soil is completely dry. Typically it takes at least 14 days for the potting mix to dry out completely.
Generally, the time it takes for the potting mix to dry out completely varies depending on a wide range of factors. These factors include:
The overall size of the growing pot or hanging basket.
Humidity and temperature of where you live.
Rate of drainage of the growing soil.
Whether the string of pearls is in an air current from your indoor air conditioning or near a source of heat.
The best way to establish if it is the right time to water your plant is to feel the potting mix at the bottom end of the growing container to determine whether it is completely dry or moist.
If the soil feels moist, give your plant another day or two before you water. If it feels scorched, it is the perfect time to water your string of pearls.
This strategy ensures you mimic the moisture conditions that the string of pearls is adapted to while in the desert. It eliminates the risk of overwatering your plant by ensuring only enough access to moisture throughout the year.
Strings of pearl usually go into a state of dormancy in summer to cope with the extremely high temperatures. It means that the plant has less demand for water during this period, and it is at an increased risk of developing root rot in case of overwatering.
During summer, water your pearl of strings once every three weeks. One of the indications that your plant requires watering is the shriveling of leaves when dehydrated. So, if your pearls remain green but start to show signs of wilting, be sure to water your plant.
2. Know-How to Tell If You Are Overwatering
Typically, if you water your string of pearls more than once a week, you are most probably overdoing it, even if you live in an arid area.
Some of the common signs of overwatering include your plant turning yellow or translucent. If you notice any of these two signs, scale back on watering and allow your potting mix to dry out properly so that your plant can recover.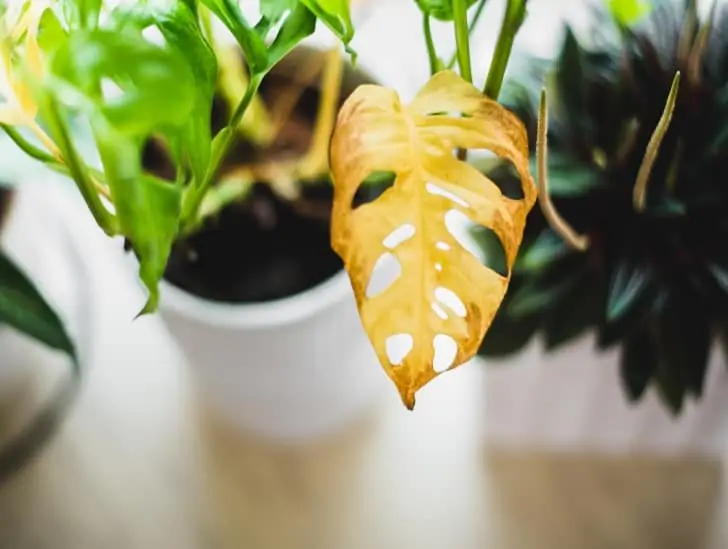 Remember that a string of pearls is highly sensitive to overwatering, particularly during summer dormancy. While underwatering can easily be resolved, dealing with issues arising due to overwatering can be quite tricky.
3. Figure Out the Right Way to Water a String of Pearls
The best way to water your string of pearls is to use the soak and dry watering method. You can only use the soak and dry watering method when the soil is completely dry.
The method entails watering your plant deeply until excess water starts coming out of the drainage holes. Once you have plenty of water coming out of the drainage holes, empty the saucer from the drained water.
The soak and dry watering method work pretty well all year-round. However, in summer, be careful not to overwater your plant because it is a state of dormancy. Wait until the soil is completely dry and leaves start to look like deflated balloons before you water again.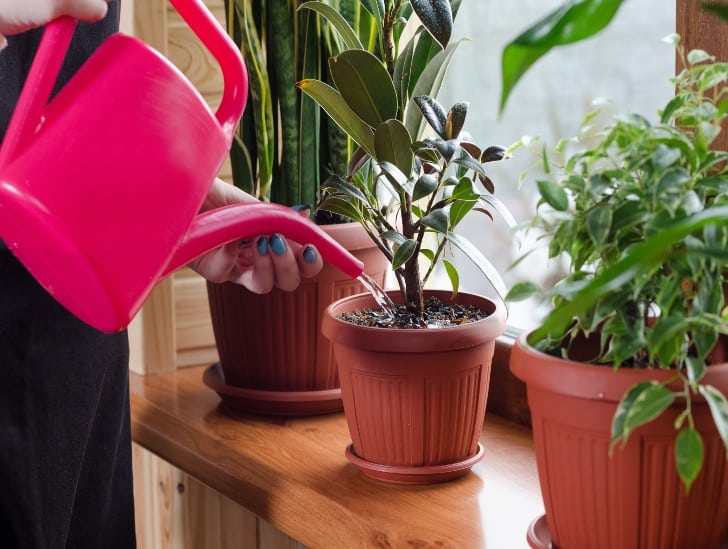 Since this succulent is highly prone to root rot caused by overwatering, be careful with the watering frequency and how you water your plant. Don't be worried if you underwater because the plant can always recover from a little drought without any issues.
Remember that there is less frequent rainfall in deserts, where the pearl of strings grows naturally. But when it rains, it usually rains abundantly. So, the soak and dry watering method tries to mimic the natural habitat of the succulent.
While following the soak and dry method is great, keep in mind that it won't work if your plant is in a pot without plenty of drainage holes. The primary purpose of the drainage holes is to allow the excess water to drain.
Also, ensure you use the right succulent potting mix for your string of pearls. Succulent soil is usually porous enough to allow the excess water to drain well.
4. Use the Right Water Type
Rainwater is always the best option for watering succulents and other plants. You can always collect as much rainwater as possible during the rainy season and store it well so you can use it throughout the year.
If you cannot access rainwater throughout the year, the next best option is distilled water. Purely distilled water doesn't contain a lot of chemicals, and it should be good for your string of pearls.
However, avoid using tap water because it contains a lot of treated chemicals that can build up in the succulent soil over time, causing severe damage to your plant.
Salt buildup in the soil usually makes essential nutrients unavailable for the plant to absorb, resulting in stunted growth. If tap water is your only option, ensure you treat it thoroughly before use.
The easiest way to treat tap water is by putting it in an open container and allowing it to sit still overnight. This allows some of the chemicals to dissipate, making it less harmful.
5. Understand How to Water Your String of Pearls If It Is Planted in a Pot without Drainage Holes
First, we don't recommend planting a string of pearls in a pot without plenty of drainage holes since the odds of failure are higher than the odds of success.
However, some gardeners may still want to experiment with things and see how it goes. So they will still plant their string of pearls in a container with no drainage holes.
If that is the case, the primary purpose of watering should be to give your succulent just the right amount of water to keep it alive. Any slight mistake and you will be left with a dead plant due to extensive root rot.
The only way to find the right amount of water to accomplish this mission is through trial and error.
In most cases, you should only provide your plant with water equivalent to half the soil volume. For instance, if the potting mix fills X container, provide your pearl of strings with water that only fills half of the X container.
If the above method seems difficult to master, lift your plant regularly and feel its weight. If the plant is no longer getting lighter, it means the water has dried out completely, and you can water it.
6. Know How to Water an Overly Dried Out String of Pearls Plant
If the pearls of your plant are shriveled, it means the plant is far too dry. This can happen when you are away from home or become too busy to water it on time.
Don't be hard on yourself when this happens because you can always revive your plant in no time. Learning to tend succulents is a process, and strange things can still happen no matter how much you learn.
A shriveled string of pearls needs time to rehydrate. To accomplish this, take your plant and put it in a watering bowl on a relatively flat surface. Carefully place the succulent in the bowl. Water it liberally and soak it thoroughly while ensuring the water only remains in the bottom of the bowl.
Let the plant sit in the water bowl for a couple of hours before taking it out. That is it, and your string of pearls doesn't require any more special attention.
Summary
The string of pearls is a good starting plant for beginners because it can survive with little care. However, the most crucial aspect of its care you need to master is how to water your plant correctly.
We hope you now have all the watering tips you need to know to keep your plant happy. With the right watering schedule, your plant will blossom and add beauty to your indoor and outdoor spaces.
Last update on 2023-10-05 / Affiliate links / Images from Amazon Product Advertising API