Succulent plants can be found everywhere and are extremely popular houseplants. One reason for this is that they are easy to take care of. They are a plant that doesn't need much care to thrive and for novice houseplant owners, they are an excellent plant to start with. However, it is important to water them correctly to make sure they are healthy.
If you think you are overwatering your succulents, read on. We have five classic signs of overwatering that you should look for, what you can do to revive your plant after overwatering, and the correct method for watering succulents. Follow our tips and you should have a happy and healthy succulent.
What Happens when a Succulent is Overwatered
The internal structure of a succulent is made up of, just like every other living creature, a series of cells Succulents are native to dry climates and as such, they developed specialized cells that store water in the roots, leaves, and stem. During periods of low rain and drought, the plant can rely on these cells to provide the water that it needs to survive.
As the plant uses the water in these cells, they are replenished by water in the ground. Since these plants have evolved to survive in dry climates, they use the water in the cells slowly, refilling whenever there is water in the soil to absorb. The cells are similar to water balloons and can expand significantly.
Succulents are used to an environment when waterings are rare. If you overwater your plant, it absorbs too much water. This causes the cells to swell up so much that they burst which damages the cell structure and can lead to rotting leaves and roots. It is important to monitor your plant for signs of overwatering.
Look at the Leaves for Signs of Overwatering
Like most plants, the first signs of overwatering are shown in the leaves. The leaves are where the photosynthesis process occurs. This is when the plant uses sunlight, water, and carbon dioxide to create energy, which it uses to grow. The leaves hold the cell-filled water, which combined with sunlight and absorbed carbon dioxide creates glucose.
If you overwater your succulents, the leaves will quickly show signs of burst water cells. If you are not sure if you are overwatering, keep an eye on the leaves.
The Leaves are Mushy
When the cells burst inside the leaves, it damages the internal structure. This results in soft and mushy leaves. A succulent that is not overwatered will have sturdy leaves that are firm to touch. The damaged leaves will also start to take on a translucent appearance.
Leaves Become Shriveled and Wrinkled
Another physical change your succulent will make if it is overwatered is leaves that are shriveled and wrinkled. Similar to when your fingertips become wrinkled in the bath; this is because the cells cannot absorb any more water. Shriveled leaves can also be a sign of underwatering, but in this case, the leaves will also be rubbery.
The Leaves Turn Black
When the succulent's cells burst, they are no longer usable and the leaf is effectively dead. Like all plant matter, the dead leaves will start to rot and turn black. This process usually starts from the center of the plant. The rot will work its way up the stem and affect all the leaves. At this point, the succulent is probably past repair.
Some Plants have Burst and Split Leaves
While most succulents will have spongy leaves, some succulents will react to overwatering by bursting or splitting their leaves open. This is most likely to happen to succulents with plump leaves, like ice plants and lithops.
The Plant is Dropping Leaves
Another obvious sign of overwatering is when your succulent drops its leaves. They can drop on their own or from the slightest movement or touch. If a plant is underwatered, the plant will drop shriveled, brown leaves from the bottom of the plant. It is easy to tell the difference between the two scenarios.
How To Bring Your Succulent Back from Overwatering
Unlike under-watering, it can be hard to return a succulent to health after overwatering. This is because the internal structure of the plant is damaged. The burst cells will not be able to repair themselves. The easiest way to repair your succulent is to take leaves and cuttings to propagate a new plant.
To do this, you need to find out what plant you have. Some plants can propagate from cuttings while others will from leaves. To take a leaf, twist it off the stem. Make sure it is a clean twist and is either at the stem or with a little of the stem attached. To take a cutting, cut a piece off the succulent above the leaf on the stem.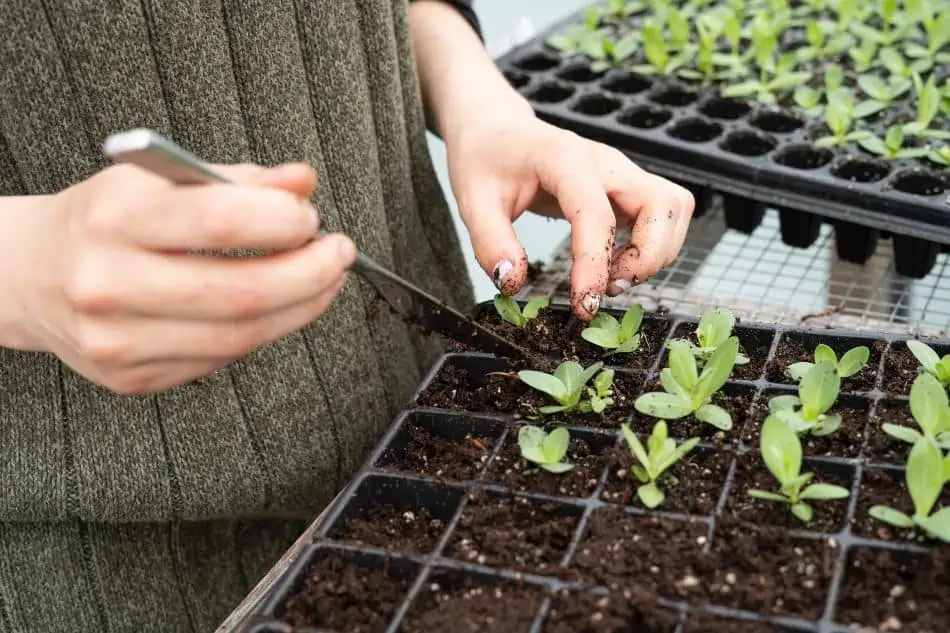 You will either plant the cutting in fresh soil or lay the leaves on top. In about two to three weeks, you will see new rosettes forming and you will have a new succulent to plant. Make sure to water it carefully and it should last a long time.
Prevent Overwatering in the First Place
To avoid the trouble of having to propagate a new succulent from your overwatered one, you should avoid overwatering to begin with. It is important to remember that these plants have evolved to live in dry climates and do not need much water to thrive. Unlike tropical plants, a little water can go a long way for succulents.
Water Your Succulent Infrequently
Succulents should only be watered when the soil is completely dried out. Depending on the humidity of your home, your succulents will probably need watering every 14 to 21 days. If you feel like this is too often, then you can adjust your watering schedule. Keep an eye for signs of underwatering, like brown or rubbery leaves and water then.
Soak and Dry Your Succulent
The best way to water your succulent is to use the soak and dry method. This is when you soak the soil thoroughly and let it dry completely between waterings. When the soil is dry, the succulent will develop a strong root system that will help it absorb and store more water during the next soak cycle. Don't use a spray bottle between waterings as that will hinder root development.
Use the Right Soil and Pot
For the soak and dry method to work efficiently, you want the soil to dry out relatively quickly, within two or three days. Having a pot with a drainage hole and well-draining soil will let the water pass through the pot quickly. There are special potting mixes for succulents that are great for creating the right soil environment for your succulents.
Succulents live their best lives under benign neglect. It is better to underwater them than to overwater them since they can recover from too little water. When it comes to watering, you should always lean on the side of less frequent waterings than the other way around. These are desert plants, after all, and are designed to survive periods of drought.
Proper Care Leads To Happy Plants
The signs of overwatering are easy to spot, but unfortunately, your succulent may be past repair when you do notice them. Water your succulents less often and keep an eye on the leaves to know the health of your plant. Remember, it is always better to underwater than to overwater. Treat your succulent properly and it will thrive.
Last update on 2023-07-26 / Affiliate links / Images from Amazon Product Advertising API