Cacti plants are known for their different shapes, sizes, and colors. While most of them are green, some are white and some purple. One of the best things about these plants is that they do not need a lot of care to thrive. But what happens when you realize your cactus has overgrown and isn't looking its best? Well, you cut it back and manage its size.
So, when do you need to cut back/prune your cacti plants? Generally speaking, most cacti plants require little to no pruning because they grow slowly and will take many years before they become large. However, overgrown plants can benefit from a bit of pruning to get rid of old stems.
Typically, you should consider pruning your cactus when it is crowded, suffering from top-bottom rotting, showing signs of pest infestation, and after blooming. Before you start pruning your plant, you must have a clear target in mind. What do you want to achieve with the pruning?
If you are still confused about whether you should prune your plant or not, read on to find out everything you need to know. We cover the basics of cactus pruning and how you should do it right.
Can You Cut Back a Cactus Plant?
The simple answer is "yes." As mentioned above, there comes a time when you need to cut back your cactus plant to manage its size and avoid overcrowding. In some instances, pruning can also help save your plant from death (in case of top-bottom rotting and pest infestation).
However, you need to keep in mind that most cacti species really don't need any form of trimming and shaping unless they have developed a huge limb that looks to tip your plant over. The only time that most gardeners are forced to cut back their cacti plants is when they are removing parts to root for new plants.
Cactus pruning, if done right, can enhance the overall appearance of your plant and prevent overcrowding which can increase the chances of pest infestation and disease. Overcrowding can also result in mildew and unhealthy plants.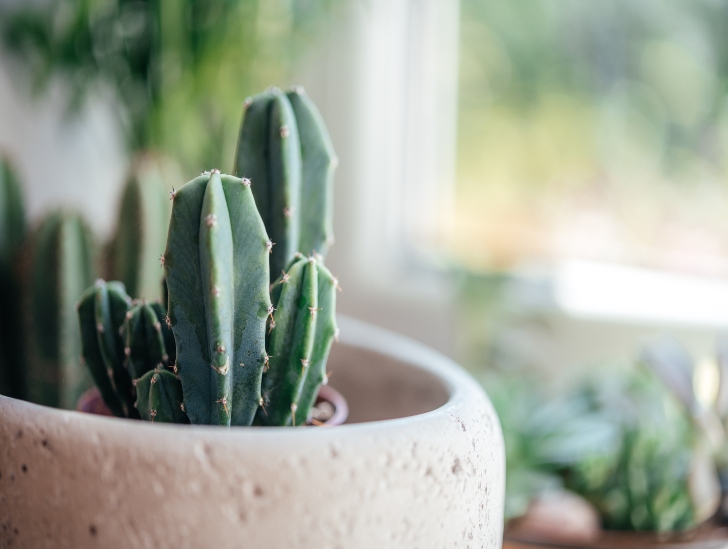 Columnar cacti plants such as organ pipe cacti and totem pole cacti can get spindly or tall and require regular pruning to force thicker stems or lateral branching.
The Opuntia has flat pads that serve as the leaves. In such a case, you can remove some pads and use them to start new plants. This is still a form of pruning/ cutting back.
The other plants in the family of cactus such as the Christmas cactus produce flower stalks when blooming. These flower stalks become ugly when dead, and the only way of getting rid of them is by trimming your plant.
Although trimming serves different purposes, the most significant part of it is that you can always use the parts you cut back to start new plants.
Signs That You Need to Cut Back Your Cactus
Now that you understand some of the reasons why cactus pruning is essential, you need to know when to do it. In this section, we discuss the top five signs that you need to prune your plant.
1. The plant has become too large
Although most cacti species grow slowly and never reach destructive heights, there are a few exceptions. Members of the jungle cactus family grow relatively fast and can become too huge when the growth conditions are right.
As a result, you may want to reduce your plant size when you notice that it is becoming too large or one side is growing much faster than the other, and you want it to be asymmetrical.
Typically, if you are pruning to reduce the size of the plant, consider cutting back the plant by at least a third each year. Regular pruning will eventually result in a slightly bushier plant with more spots for blooms to develop.
Keeping smaller sized plants makes things a little easier because you can position them anywhere in your house. You can fit them on your window sills without overcrowding the limited indoor space.
2. Pest infestation
While most cacti species have sharp spines that deter pests, certain types of pests can still find a way to your plant. Some of the common pests that may attack your cactus include cactus bugs, mealy bugs, spider mites, cactus longhorn beetles, and scale insects.
Some of these insects multiply rapidly, and if you don't take action to stop them early, the effect can be catastrophic. Most of them attack the stems, but others may find their way to the roots.
The moment you notice signs of pest infestation on your cactus, you need to take appropriate action to stop them. If the pests are large, you can simply remove them by hand. But, if they are tiny such as the spider mites, you may be forced to call in a professional pest exterminator.
The bad news is that some cacti pests are so tough and chemical-resistant such that even the most experienced pest exterminator won't stop them. If you have tried using an exterminator to get rid of bugs, but you don't see results, pruning the affected part is the only solution.
Identify the part of the stem attacked by the bugs and carefully cut it back. Make sure you prune all the affected sections of the stem to avoid re-infestation.
3. Top-bottom rotting
Rotting is a common cactus issue that you have to deal with promptly to save your succulent. Rotting can start from the bottom (roots) and spread upwards to the stem. It can also start at the top and spread down.
When your cactus starts to turn brown and soft at the tip, you could be staring at tip rot, also known as cactus stem rot. Once your cactus starts rotting from the top, it won't stop, and if you don't act fast to save the plant, it will die.
Stem rot is caused by a fungus and pest infestation, or water penetrating through an open wound on the plant. If your cactus is damaged in any way, it could be susceptible to stem rot.
Once you start noticing signs of stem rot on your plant, the most important thing you need to do is prune/ cut back all the affected sections of the stem to save the rest of the plant. If you don't prune off the affected parts, the rot will continue to spread and eventually kill your plant.
Keep in mind that rot spreads pretty fast and you may not have a lot of time left to save the cactus. You can use pruning shears or a sharp knife to prune the affected sections of the stem.
4. The appearance of dead stalks after blooming season
The appearance of dead flower stalks just after the blooming season is another sign you need to prune your cactus. This is especially true for Christmas cacti that flowers massively.
Do not prune before the flowering season to avoid losing the precious blooms. However, once the blooming season is over, you may notice that the flower stalks left behind appear ugly. Take time and carefully cut them back to give your cactus a new look.
Apart from getting rid of the dead stalks, pruning after the flowering season will also make your cactus bushier which will eventually lead to the development of more blooms the next time the plant flowers. Ensure you cut back all the dead stalks and unhealthy branches.
5. Cactus is getting too tall for its pot
Lastly, you should also consider pruning when you realize that your cactus plant is getting too tall for its pot. Ideally, you should repot your cactus every two or three years, but this is not always the case.
Therefore, if you realize that your plant is getting taller for its pot, consider pruning it so that it doesn't topple over. In most cases, plants grown in light plastic containers tend to grow taller and thin. Reducing the plant to an appropriate height helps it to become thicker and healthy.
Keeping Safe While Cutting Back Your Cactus
Ensure you observe safety measures when pruning a cactus.  Wear protective clothing such as long pants, sturdy shoes, leather gloves, and a long-sleeved shirt. You should also put on protective eye glasses if you are pruning a prickly pear because the glochids can become loose and blown into your eye by the wind.
Make sure your gloves are waterproof to protect you against the milky sap, which might cause severe inflammation and irritation if it comes in contact with your skin.  You might also need a water-based marker to help you mark the exact sections of the stem you need to prune.
Final Thought
That is it about pruning/cutting back your cactus plant. Keep in mind that these succulents are quite dangerous, and you need to be careful while pruning.
Now that you have a complete guide on how and when to prune your cactus, it is time to put on your gear and get down to work. Always give your cacti plants the face-lift they deserve so that they look healthy and beautiful throughout the year.
Last update on 2023-07-26 / Affiliate links / Images from Amazon Product Advertising API