We've discussed cactus for every part of your home, including the garden, kitchen, living room, and bedroom. But one thing that doesn't come to mind is where you spend most of your productive time, the office. Your office also needs some life, and there's no better way to ensure that than to get some amazing cactus plants.
Add some color and warmth into that space by incorporating some low-maintenance cactus that can do well in low light with little to no watering. You need something that won't take away your busy office hours to care for; hence cactus makes a good choice. But not all of them will fit this description well because some need way too much attention. Not to talk about those that will grow so huge and too fast that you'll need to move them outdoors.
So, what types of cacti meet the perfect description of desk plants? Well, you can never go wrong with any of the choices below as long as your climate allows it. Let's have a look at these five cacti for your office desk.
1. Christmas Cactus (Schlumbergera truncate)
Christmas cactus is sure to brighten your day at the office with its unmatched beauty. A beautiful bloom from the cactus is all you need for the holidays, and Christmas cactus will not disappoint. Its smooth segment leaves and soft spines provide the perfect décor that you need to brighten a dull day in the middle of winter. You'll love how the stems and the leaves hand and drape from your containers.
It's not names of Christmas cactus for nothing. The plant lives up to its name by blooming in bright orange-pink, red and white flowers from its long leaves with flattened segments. And the timing is also perfect as the blooms come out during the Christmas period. If you want it to keep blooming and brighten your office longer, give it cooler temperatures of 50 to 60 degrees F.
Christmas cactus can do well in a small and not so well lit office because it doesn't require too much light. You'll appreciate some winter blooms if you give your Christmas cactus some darkness. You'll do it some justice by giving it filtered light coupled with moderate irrigation. To enjoy the beauty, consider growing it as a hanging plant or place it where it can easily drape.
If you give it excellent care, this winter plant will not disappoint as a houseplant of any setting. It might even surprise you with additional blooms if you give it some exceptional care. Planting it in your office ensures you get something to gift your employees for the holiday season. You might also have some decors to take home with you for the holidays.
2. Zebra Cactus (Haworthia fasciata)
If your office space is characterized by all kinds of artificial lighting, fluorescent light fixtures, and some warm and dry air, you might think there's no room for plants. Well, you're wrong because the environment is highly welcoming to Zebra cactus.
Zebra cactus is a perfect plant for the office because it doesn't require sunlight but will appreciate the artificial lighting. It prefers bright light, so you can do it some justice by switching on the office bulb when you go home in the evening. The plant can also do well in spaces with low light, so you don't have to worry if your desk space is slightly dim. The cactus needs minimal watering and almost zero maintenance.
Another thing you'll appreciate about the Zebra cactus is the fact that it won't interfere with your space. The cactus grows to 4 inches in height, which is a perfect size for an indoor plant. The Zebra Cactus takes its name from the appearance. You'll recognize it in its small size and the horizontal white stripes on the leaves. Its leaves form shapes similar to that of aloe plants. The leaves are thick, smooth inside, and take a dark green color.
The beautiful plant doesn't need much of a fuss or attention. As long as you give it an occasional drink and keep it away from direct sunlight, it won't be much of a bother. While it grows so slow and doesn't flower often, you can expect some blooms in summer. You'll love the flower treats because it's how the plant shows you that it still has some life despite the slow growth.
3. Saguaro Cactus (Carnegiea gigantea)
The slow-growing nature of saguaro makes it an excellent plant for your desk. Another great trait that makes saguaro a perfect workmate in your office is that it doesn't require too much watering. If you're the kind of person who travels a lot for work and has to leave your plant uncared for long, you'll love saguaro. Just make sure you give it some sparing watering once a month, and it will appreciate.
But one thing you should never deny saguaro is light. Ensure there's some bright light coming in through your office windows. The beauty of saguaro lies in its barrel-shaped bodies and pleated trunk interior. The pleats in the plant enable it to gather water and store it in its tissues for the longest time.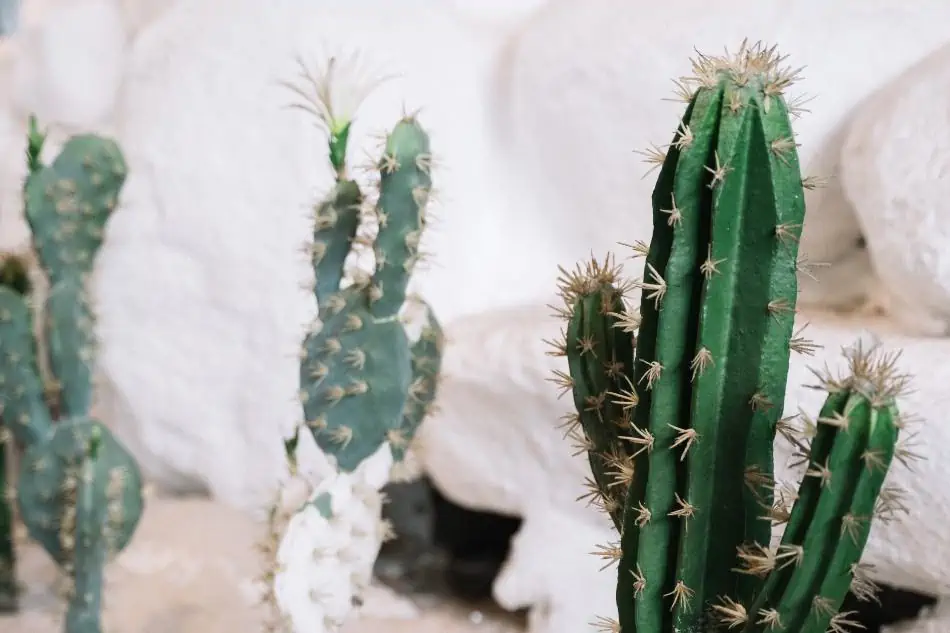 As for the blooms, it will take you a very long time before you see any. Experienced gardeners say it can go up to 35 years without blooming. But even without any flowers, saguaro still looks stunning in its majestic and treelike appearance. When it's ready to produce flowers, you'll notice them at the end of the arms or the sides of the cactus. The blossoms will open at night and close during the day, so you must be accurate with your timing to notice some.
4. Old Lady Cactus (Mammillaria hahniana)
Old lady cactus is a gorgeous looking plant you can use to adorn your office. The cactus forms some beautiful tall spheres that come in white hairs and spines. Its beauty doesn't end there. Old lady cactus will also adorn your office with pink blooms in the middle, appearing like a crown on ahead. And the fact that you get all this beauty and sweetness from a cactus is just so amazing.
Old lady cactus will appreciate some good care and can grow quite well in groups. Yes, just like your grandma at home, old lady cactus doesn't like being alone. So, if you have space, consider growing it in groups using a large pot, and it won't take long before you enjoy the beautiful collection of spheres.
To add old lady cactus to your collection of indoor plants, you'll have to plant it in a sandy potting mix and only water when you notice that the soil is dry. Make sure your pot offers good drainage, so your plant doesn't sit in water. Old lady cactus will need less watering during winter and more during summer. Also, make sure it receives around 4 to 6 hours of direct sunlight. If this is not possible, give it some grow light.
5. Parodia Schumanniana
If you love some sense of security in your office, then you'll get that if you plant Parodia schumanniana. The cactus comes with some pricks that define its beauty. Parodia is an easy to grow indoor cactus that can do well in low light. The cactus can grow up to six feet long when the conditions allow it. It won't need you to repot or move outside because it's a slow-growing cactus that won't get in your way.
On the aesthetics part, Parodia will not disappoint either. The beauty starts from its bristle-like spines that look yellow at the start but later turn gray or brown. When summer knocks, you'll start to see some stunning bright yellow flowers. After the blooms, you'll also notice a round green fruit adding to the beauty.
Something unique about Parodia schumanniana is that it won't do well in direct sunlight. So, if you thought all cacti need light, then you're wrong. It's also a one of a kind cactus that needs more watering even in winter. As you water it, make sure the drainage is also perfect for preventing the precious roots from rotting.
Choose Your Cactus Now
If you thought these desert-native plants wouldn't make good office plants, then you're wrong. It just needs some creativity from you to have some sense of life apart from yours breathing the air inside. The cacti mentioned above will not get in your way by taking too much of your productive time. They'll also fit well in your small desk space as they don't grow too big.
Most of them need little to no care, so you can plant, water, and forget they even exist for some time. Just make sure you mimic their natural habitats before you forget about them; otherwise, they'll die. So, if you think your office needs some greenery and you don't want to deal with the huge workload of caring for indoor plants, think of these cacti, and you'll never regret it.
Last update on 2023-07-26 / Affiliate links / Images from Amazon Product Advertising API