Cacti are popular plants to grow at home (both indoors and outdoors) because they require very little maintenance and are among the coolest looking plant varieties. Because of their unique needs compared to most plants you keep in a garden, there are specific guidelines that need to be followed for care. Many misinformed care strategies may hurt the plants.
These are five common mistakes in cactus care:
Caring for all cacti the same way
Overwatering and Underwatering
Using small containers and bad soil conditions
Offering too little sunlight or scorching them
Using pesticides incorrectly
Many things in life need to be done in moderation. This is particularly true when caring for cacti as our common mistakes show that too much or too little of something can be equally damaging to the plant. We will cover the common mistakes that arise in cactus care and what you should be doing to make sure that your cacti are appropriately cared for.
Common Mistakes in Cactus Care
Cacti can be very easy to care for when done so correctly, but it can also be challenging as they are very different from plants that we are familiar with. They are native to the Western Hemisphere, often being found in arid environments where drought is frequent. However, there is variation in the environments they are found in, with some being drier and more intense than others.
Cacti have become a popular plant species to grow and take care of at home, providing that care mimics their growth and survival in the wild. The following are five common mistakes in cactus care and how you can modify these mistakes to care for your cactus plants best.
1. Caring for All Cacti the Same Way
Cacti are not only unique from other plants, but they are incredibly unique among each other. There are upwards of 2,000 species found throughout North and South America, all in varying weather and living conditions. Because they are naturally found in different climates, soil conditions, and environments, certain species are best suited for some areas over others.
Cacti all share a common survival strategy to preserve water, but the conditions in which they do it can be quite different. The first common mistake in cactus care is treating all cacti as if they are the same. While there are general cactus care guidelines we will point out throughout this article, not every recommendation will suit all species the same.
To best care for your cactus plants and promote the growth of a healthy plant, you should be looking at specific care protocol for your individual plant types. This will ensure that you are mimicking the conditions that each species would be exposed to in their natural environment. Some species of cacti are easier to care for than others.
For example, the Mammillaria genus of cacti likes to stay dry compared to others in the cacti family (Cactaceae). This means that they will need to be watered significantly less than other cacti for ideal growing conditions. Referring to individual species for best-growing conditions will ensure that the plant can thrive.
There are certain species of cacti that are better suited for home growth than others. Here are some of the easiest ones to grow (listed by genus and offering many species within each):
Opuntia: Referred to as prickly pear, Opuntia needs bright light as young plants and full sun as adults. They withstand high temperatures and dry environments. Seedlings should be consistently moist, but adult plants are very drought tough. They can completely dry out between watering but need to be soaked.
Echinopsis: The Echinopsis genus is characterized by bulbous cacti. They like intense light, need thorough watering when their soil is dry, require good drainage, and do well with fertilizer.
Mammillaria: These need less sunlight than many other species, do not want lots of water and need fast-draining soil.
Rebutia: Different species of Rebutia will require varying sun conditions, and most do not want high temperatures. They need their soil to dry before re-watering.
Parodia: Keep Parodia away from excessive direct sunlight and shade them during the hottest parts of the day. Their soil should remain moist, so regular watering is required.
Ferocactus: These are often barrel-shaped cacti that appreciate direct sunlight, well-drained soil, and limited water. Only rainfall is required to water Ferocactus unless drought occurs.
If you are considering cacti to grow at home, these are among the easiest to grow successfully. A wide range of species falls under each genus, giving you plenty of cactus aesthetics to choose from.
2. Overwatering and Underwatering
One of the coolest features about cacti, which are considered succulents, is their ability to store water. Most cacti store water in their stems and thrive in environments will little access to water. When caring for cactus plants at home, there is typically always access to water, which can be good and bad. While we water most of our plants every day, cacti are not suited for it.
Two common mistakes deal with how much water is being given to your cactus; you can overwater and underwater it. It is all about finding a happy medium as too much water will overwhelm the plant, and too little will cause it to dry out.
It is recommended that cacti should be watered around once a week, but there may be differences depending upon the specific species.
When watering most cacti, you will want to do so when the soil mixture is near or completely dry. The best watering technique is to soak the soil so that the cactus will be able to pull enough moisture from the mixture. Once the soil appears dry again, this is the signal to re-water (should occur every week or so). Too much water can cause the roots to rot when sitting.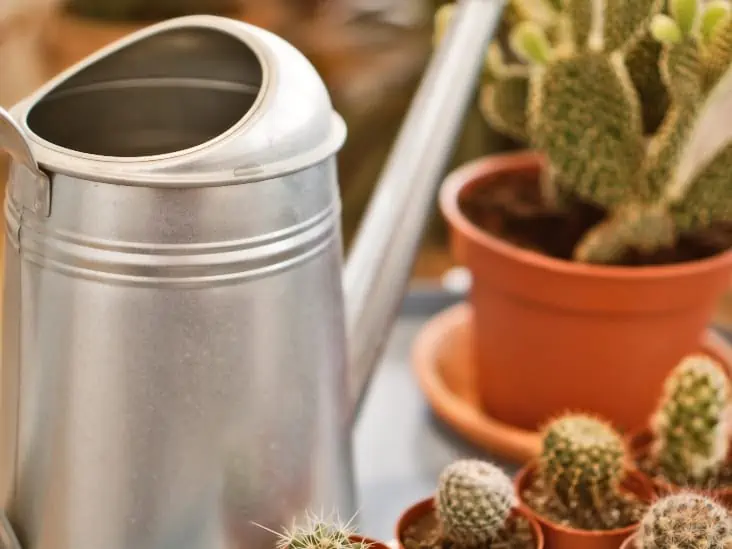 You may also notice physical signs on the cactus that show the impacts of watering at different levels:
Coloring: If the plants are not watered for considerable amounts of time, green plants will often appear more yellow. In extreme situations, parts of the cactus will turn brown or black, which indicates death.
Plumpness: If the cactus looks very engorged or mushy looking, you may have overwatered it. Limit watering in this case, so the plant has a chance to return to ideal conditions.
Wrinkles: If the leaves or outer appearance look shriveled, this is a sign of underwatering. Make sure that containers are sufficiently watered when watering does occur.
The time of year will also determine the watering schedule. The weekly recommendations are for the summer and growing months, while wintertime will require less watering because of dormancy. Only water when soil is completely dry in the winter to avoid drying the cactus out. Soil type will also impact watering habits. Fast-draining soil will require more water as it leaves the container. Larger containers will need more water than small ones.
Always look at the specific requirements of your species but err on the side of underwatering as opposed to overwatering.
Cacti are naturally drought resistant and will be able to handle drier environments as opposed to being overwhelmed with moisture.
3. Using Small Containers and Bad Soil Conditions
The physical conditions in which cactus plants are kept will also have a significant impact on their ability to survive. There are two parts of this common mistake, which include using containers that are too small for growing and bad soil choices. These two factors work together to provide an unsuitable environment for many cactus species.
If you are growing a cactus in a pot, you should examine both the size of the cactus and its roots. Many people will choose too small of a container for their cactus, which will limit the growth capabilities depending on the species. If there are longer roots, you will need a deeper container. It is recommended to choose a container that is slightly larger than the plant.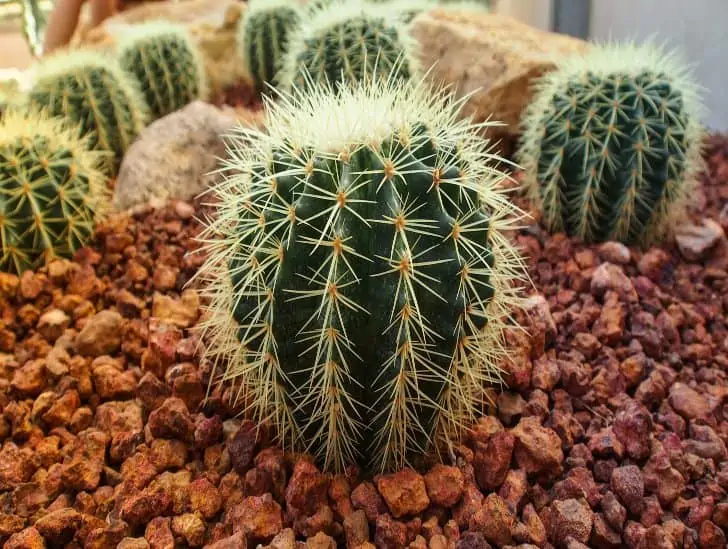 For both plants in containers and those in the ground, the soil is critical. It is a common mistake to use regular potting or gardening soil for cactus, which does not contain proper draining qualities and can lead to root rot more quickly than cactus mix or soil. You should be mimicking growing the conditions that cacti find themselves in many desert environments.
The best soils for cacti have the following characteristics:
Rocky: This allows water to easily pass through the soil so that it does not sit and negatively impact the roots.
Rich in nutrients: Many cactus mixes will include nitrogen, phosphorus, and potassium.
Contain peat: If kept in extremely dry environments, peat moss is often added to help the plants maintain and hold moisture, so the soil does not dry out too fast. This will vary based on the species you grow.
Fertilized: To help aid in the growth of your cacti, consider adding fertilizer to the soil every couple of months. They do best with light fertilizing as full-strength can be overwhelming to their composition and growth. Some soils are enriched with fertilizer and will not require additions. Phosphorus-rich solutions are best for growth.
The containers you plant the cacti in should also have holes at the bottom to allow for this drainage to occur. Without holes, the soil remains moist, leading to premature death and decay of the roots. As cacti proliferate, they need to be repotted every two to three years so they have access to fresh soil with new nutrients.
4. Offering Too Little Sunlight or Scorching Them
Sunlight is crucial to the growth of all plants for photosynthesis. Cacti do engage in photosynthesis, but it is CAM photosynthesis, allowing them to maintain moisture by collecting carbon dioxide at night. The amount of light given to cacti is one of the most important factors in keeping the plant healthy. A common mistake is providing them with too little or too much light.
There are two main issues where sunlight is concerned:
keeping them indoors where there is limited light
leaving them outside in intense sun that can burn the plant
You want to provide a good light balance for the plant, which will largely depend on the species you are growing. Some cacti require indirect sunlight, bright light, or a restriction on the hours exposed.
If your cactus is receiving too little light, here are some common solutions:
Keep it near a window: To avoid burning but allow for more light, keeping a cactus near a window will give it the light it needs without high intensity.
Use artificial lighting: If you cannot provide enough natural light, artificial light will work. You will just need to make sure it is exposed to these lights for longer as they are not as powerful or strong as natural lighting will be.
Move it outside: Many species will thrive in outdoor environments with ample sun. You can always put it in an area that will be partially shaded if it cannot withstand direct light all day.
A common misconception is that cacti should be left in full sun all day since they are naturally in the desert. For some varieties, this is absolutely true and they need lots of light for growth. Others may be more intolerant, especially if it is a hot and intense sunlight. Brightness may be more important than direct sunlight, which can be achieved near a window for indoor plants.
Most cacti will require 4 to 6 hours of sunlight per day, with specific species being suited for full sun.
Some cacti are found in tropical environments rather than deserts, so intense sunlight is not going to allow them to thrive. Understanding your specific species will help determine this! Cacti can get a sunburn and they will tell you with yellowy skin color. If you notice this, take the cactus out of direct sunlight and grow it either indoors or in areas that will receive shade.
5. Using Pesticides Incorrectly
Because we want to keep bugs and insects off our plants for optimal growth, it is a common mistake to use harmful pesticides on your cacti. Most cacti naturally deter bugs and do not really deal with this problem as much as they do bacterial and fungal disease. When bugs do develop, you need to make sure proper insecticides are used as to not damage the plant.
Bugs will feed on the nutrients accumulated in leaves and stems, with the most common pests being:
Mealybugs: These are dangerous to the plant and will attack it from the stems and the leaves. They are small white bugs that reproduce quickly and will damage the cactus. Try removing with water or tweezers before chemicals. Neem or horticultural oil and rubbing alcohol solutions can also be used before more intense insecticide applications.
Scale: Another difficult pest to remove, scale insects are often found in warm environments (perfect for cacti) and produce honeydew which can contribute to mold creation. If not addressed, leaves will die and it can kill the plant. Similar treatment methods can be used as mealybugs, but armored scales are more difficult to remove. Early intervention is necessary for effective removal.
One of the most common ailments a plant faces when pesticides are involved is phototoxicity. When pesticides are combined with sunlight, they can produce a chemical reaction that is similar to that of a sunburn on the cacti. This will result in burning of the cactus skin and is a direct result of a grower's application of a pesticide.
The best way to both use a pesticide and prevent phototoxicity is to apply pesticides when direct sunlight is not present. Application will kill bugs or pests but have limited impact on the surface of the plant as long as contact with sun is not made. When the pesticide is left on for the amount of time it needs to kill the bugs, wash it off before the plant will be exposed to sun again.
Prevention is the best way to avoid cactus damage related to pesticides. Make sure all pesticides used will not damage the plant upon impact. Using a cactus-specific solution will help to keep your plants healthy and prevent the infestation of bugs or insects on your plants.
Taking Best Care of Cacti
Cacti are incredibly strong plants but they are also sensitive and should be treated with care. They are best served being slightly neglected over being micro-managed with too much water or interference. Our best advice for avoiding the mistakes mentioned throughout this article is to research the specific cacti you will be caring for.
Because 'cacti' is a such a large plant grouping, there is not one set of directions that will apply. The common mistakes apply to all cacti, but which ones will be more resilient to either end of the spectrum is largely dependent on the plant you have. Cacti are excellent for homes, and compared to most plants, are beautiful and low-maintenance additions.
Last update on 2023-12-10 / Affiliate links / Images from Amazon Product Advertising API