Adenium obesum, commonly known as desert rose, is a stunning slow-growing plant that requires little attention. Its succulent trunk, pink flowers, and delicate leaves make it an ideal bonsai plant. It is native to the Middle East and Africa but can be found in stores worldwide for home gardening. The Desert Rose has it all. Gorgeous blooms in the early spring, vivid red berries in summer, and masses of festive blossoms at winter's peak.
So, what are the rules for watering a desert rose? Well, desert rose plant has varying water requirements depending on the temperature and season. For example, in late spring, keep the soil moist but not saturated. In colder months, reduce the watering cycles and only water once a month or so.
Improper watering is one of the leading causes of desert rose withering and death. As such, it is important to learn how to properly water desert rose plants so that they can thrive and continue blooming. Following a few simple guidelines makes these flowers easy to grow, and the rewards are enormous. Read on to get golden tips on how to water desert roses.
1. Know when to water a desert rose
Desert roses do not require much water to survive in their native environments. However, to grow them in a domestic setting, water them skillfully to achieve the desired level of growth and flowering.
Always ensure you have the right lighting requirements when watering a desert rose.
These plants are accustomed to desert conditions. This means you need to get them as much light as possible. Lighting in itself does not influence when you need to water the plant, but if you place it outside where it gets more direct sunlight, the soil might dry more quickly, thus requiring more frequent watering.
Does soil affect when to water?
Desert roses need dry, rough, well-drained desert soil to survive. As a result, soil doesn't influence when you need water unless you use poorly draining soil. In such a case, you'll need to water less often, but you'll still run the risk of drowning the roots in the wet soil.
2. Mind your water quantity and frequency
As its name suggests, the desert rose is a desert plant that requires very little water to grow and flower. However, when grown at home, it requires varying water requirements in different seasons.
In general, desert roses need to be kept in moist but never soggy soil. If the roots are exposed to too much moisture, they will rot, effectively killing the plant. This makes the soil with good drainage all the more important.
To keep the soil moist, water regularly but take care not to overdoing it. For example, in summer, you can water it once every 10 days or whenever it looks parched. On the other hand, in winter, you only have to water it once a month or so since the plant is dormant at this point in time.
As a golden watering rule, use the soak and dry method. Dig up the top few inches of the soil to check if it's dry. If that's the case, you can water the plant.
Another tip you can use is to check the plant's caudex. If your plant is well hydrated, the trunk should be swollen, proportionally to the size of your plant.
Watering desert rose from a can
During the plant's active growth season, use the soak and dry method to check if the soil is dry. Whenever that's the case, place the pot in a plastic saucer and water it slowly using a can from the bottom up.
Once the soil has absorbed it and looks moist, it's enough to last several days. In extreme drought conditions, water plants in the same landscape deeply. You can do this by slow dripping them for several hours during the cooler parts of the day.
3. Avoid under-watering or over-watering a desert rose
Since desert rose is a drought-resistant plant, under-watering it might not take as much toll on it as it would on other plants. Under-watering is only an issue when the plant is in its active growth period. Still, the plant is likely to take a long time to die from under-watering.
However, if you notice leaf loss or the trunk is proportionally thinner than expected, it's an indicator of under-watering.
Unlike under-watering, over-watering is a major issue for desert roses. In fact, an over-watered desert rose will rot much faster than other succulent plants.
Desert rose roots are sensitive to too much moisture. Once they are drowned in water, they rot and eventually kill the plant.
Always ensure that the soil is not flooded at any point. The best way to do this is to use little amounts of water to irrigate the plant at a time.
Immediately you notice that the soil is soggy, reduce the amount of water and watering frequency. You can then move the plant to a more sunny location where it will use up the water quickly.
4. Watering desert rose seeds needs extra caution
When propagating desert rose from seeds, soak them for a day before planting them. You can then plant them in moist but non-soggy soil for a week to 10 days.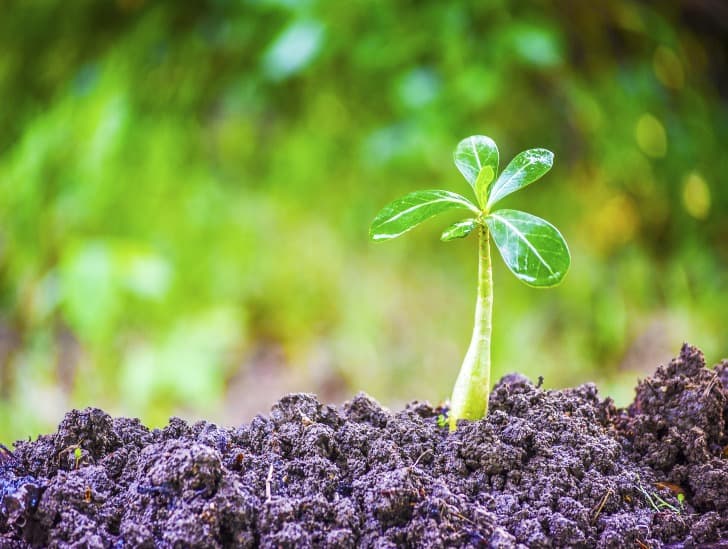 Keep the soil moist by watering it whenever it looks dry. However, remember not to over-water; else, you run the risk of drowning the growing roots.
Desert roses don't need to be irrigated with a special type of water. Almost any type of non-toxic water will work just fine.
Other ways to take care of a desert rose
Apart from watering, you can do a few other things to ensure your desert rose is growing healthy.
Lighting
Being a desert plant, a desert rose appreciates as much sunlight as it can get. So, if you decide to pot it in your house, choose a spot that receives at least 5 to 6 hours of sunlight every day.
For better results outdoors, pick a spot where taller plants will not shadow it. Nevertheless, ensure that it's shaded from the harsh high noon sun. When the plant is exposed to the extreme afternoon sunlight in hot areas, its leaves could get scorched.
Soil
Like most other desert plants, desert roses require well-draining soil to grow healthy. Gravelly or sandy cactus soil with an acidic PH should be just fine to grow desert plants. The PH should ideally be around 6.0.
Fertilization
Although fertilizer is not a requirement to grow desert roses, it adds nutrients to the plant and makes it healthier, potentially producing more vibrant flowers. If you are looking to grow desert rose as a decor plant, fertilization is highly recommended.
Feed your adenium obesum with diluted liquid fertilizer (diluted by half) at least once a month during its active growth period.
Temperature
Keep your desert rose in warm temperatures between 65 and 95 degrees Fahrenheit at all times. If the plant is exposed to temperatures below 50 degrees for too long, it withers and eventually dies.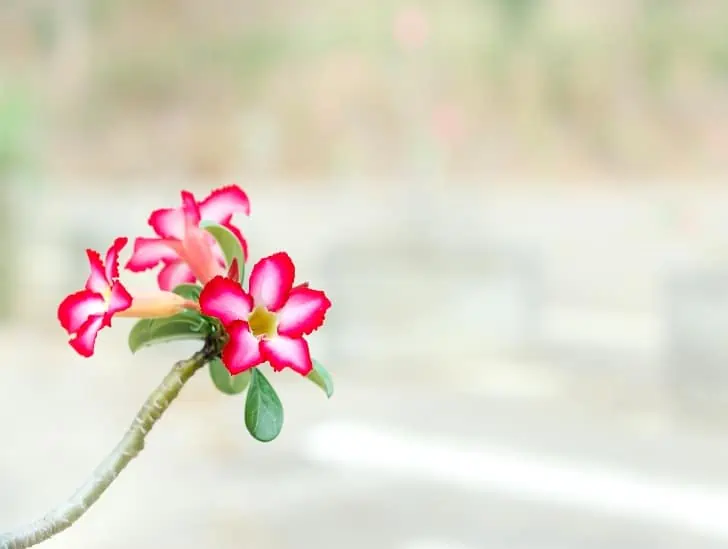 If you live in a frosty area, don't plant a desert rose outside. It will most likely die from prolonged exposure to frost.
A desert rose doesn't do well in a frosty area and you may need to avoid it in case you live in such areas.
Humidity
Humidity is not a significant concern for this plant as it is accustomed to hot and dry climates. However, if you live in an overly humid area, enhance the soil's drainage, especially during the plant's dormant months.
Pruning
Prune a desert rose whenever it looks necessary. However, avoid pruning it in late fall as this may induce new growth in the plant, making it sensitive to cold weather.
Repotting a desert rose
Repot a desert rise whenever the need arises. As a rule of thumb, repot your plant whenever the roots fill the container. This may happen once a year every year.
Whenever you repot a desert rose, ensure the soil is parched. Clear all the old soil from the roots before planting it in a new one. Remember to wear gardening gloves throughout.
To Wrap It Up
The desert rose is a great plant. It looks beautiful and requires very little maintenance. Its watering regime is simple as long as you follow the steps listed in this guide. The beauty of a desert rose is enough to encourage any plant lover. You will be rewarded for your efforts and be the envy of your friends and family if you take pride in a desert rose. In case of any doubts about its watering or general care, always consult a garden expert. Watering a desert rose is no rocket science and with the right amount of care, it will thrive for years to come.
Last update on 2023-10-05 / Affiliate links / Images from Amazon Product Advertising API