The snake plant is a popular tropical plant known for its versatility. The plant features tall leaves and different color variations.
This easy-to-grow plant is known for its ability to clean the air and adapt well in many conditions. Although it can tolerate low light, the best place for your snake plant is a bright location with indirect sunlight. The more sun, the better the leaves appear. But, no matter what kind of location you place the snake plant in; it will be a welcome addition to any room.
The snake plant is one of the best succulent plants you can have, thanks to its beauty and the many benefits indoors. If you want to find out more about this wonderful plant, keep reading.
Snake Plant Facts
1. Snake Plant Has Many Names
The scientific name of the snake plant is Sansevieria Trifasciata because it belongs to the Sansevieria family. The plant also has a nickname; Devil's Tongue or Mother-in-Law's Tongue.
Other names of snake plants include Bowstring Hemp, Ribbon Plant, Snake Palm, Bow Tie Plant, Friendship Tree, Goldband Sansevieria, Silver Queen, and Life plant. This succulent indeed boasts of amazing titles.
2. Snake Plant is Native to Africa
The origin of the snake plant is the tropical regions of Africa, Madagascar, and some parts of Asia. The plant makes an important part of African culture where it's deemed a symbol of good luck and fertility.
Others believe that the plant provides spiritual protection and is used to cast out evil spirits. It's also a symbol of the African gods, such as the god of war.
For the Chinese, this plant also has many meanings. It's seen as a symbol of heroism, and the snake is one of their favorite creatures. They also see the plant as a sign that good fortune will come soon. The plant is also associated with good feng shui as you can use it as bedroom decor.
3. Snake Plant Is Not Cactus
SansevieriaTrifasciata is not a cactus; however, it does belong to the succulent family. Many people tend to confuse it with a cactus due to its appearance. The leaves of the plant are thick and fleshy, which makes it resemble a cactus. In fact, the snake plant has the same structure as aloe vera, jade plant, and agave plants. The plant also has care requirements that almost resemble those of cacti.
4. Snake Plant Can Easily Adapt To Different Environments
The snake plant is very versatile and easy to take care of. It can grow in different environments. You will probably give it too much water if you place it in a humid atmosphere. However, a dry environment might not be suitable for your plant.
The snake plant will be happy growing in a room with little sunlight, but you can also place it indirect light. However, make sure to do this gradually as too much sun is not good for your plant. But if you place the plant in dim conditions, it might form brown spots on the leaves.
5. Snake Plant Can Remove Toxins and Improve Air Quality
One of the most interesting facts about this plant is that it can remove toxins from the air we breathe. It also absorbs carbon dioxide and releases oxygen at night. This attribute is an excellent benefit for those who sleep with their windows closed. This allows you to create clean air for your bedroom. Its air purification quality has earned the plant a perfect place in the bedroom.
6. Snake Plant Is a Busy Little Plant
The snake plant is considered a busy plant because it regulates the transpiration rate. The plant can regulate these processes to grow in hot and dry conditions. However, this also makes the snake plant adaptable. So if you place your snake plant in a humid environment, it will still have the same success as if it were in a dry area.
7. Snake Plant Is Easy To Care For
The Sansevieria Trifasciata is an excellent houseplant for beginners, thanks to its easy care. If you're starting with indoor plants, the Sansevieria will be a perfect choice. It's easy to care for and adapt to different environments, making it one of the easiest houseplants to grow.
The snake plant is an easy-to-grow houseplant that only requires a few basic care tips. You need to place your plant in indirect sunlight and water it once every two weeks. This plant is not too demanding when it comes to caring needs and is a perfect plant for those who have a busy lifestyle or those just starting their gardening journey.
8. Snake Plant Is Popular All Over the World
The snake plant is extremely popular everywhere around the world. This succulent plant is widespread in America, Europe, and Asia. It's found in most nurseries and retail stores across the globe.
The reason behind its popularity must be due to its adaptability and easy care. When cared for properly, the snake plant will be able to retain its strong appearance. The plant requires little attention and makes an interesting addition to any living space or office.
9. Snake Plant Makes a Good Gift
The snake plant is also popular because it's the ideal "thank you" gift after someone has had a baby. If you know someone who just recently gave birth, this is an excellent houseplant to give them as a gift. It's also great for newlyweds. So the next time you're planning on giving someone a housewarming gift or want to treat yourself, get your own snake plant.
10. Snake Plant Is Related to the Agave and Aloe Plants
The snake plant is related to two popular succulent plants: aloe vera and agave. This means that if you have experience growing either the aloe or agave plant, you will find it very easy to grow a snake plant because of their similarities. They all require similar water needs and temperature requirements which makes caring for the snake plant very easy.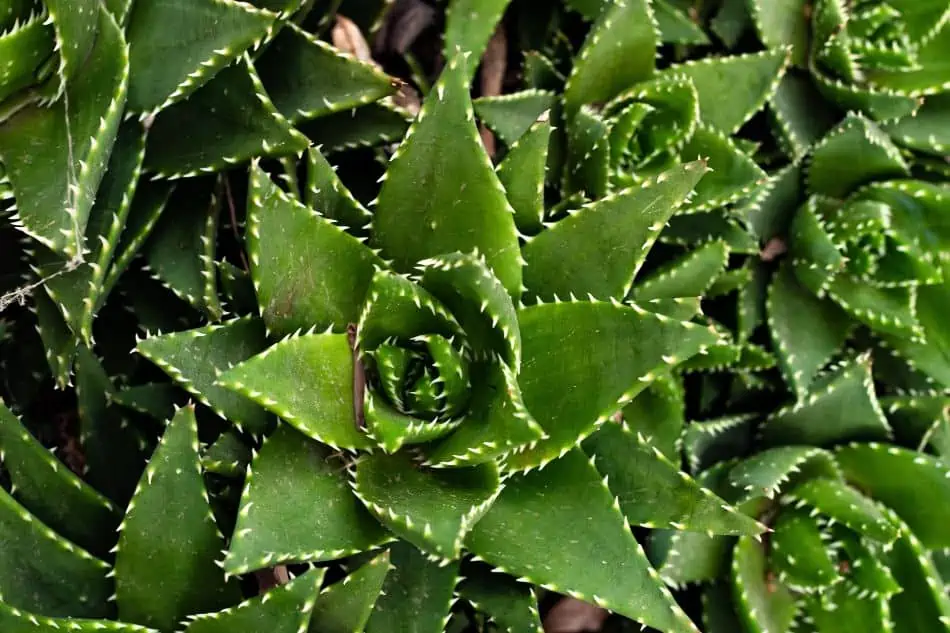 11. Snake Plants Prefer Being Dry
Since these plants are native to drylands, they do not like wet feet. Make sure to remove excess water from the pot and place it in a dry area. An easy way to tell if your snake plant needs watering is by touching the soil – if it's moist, do not water it.
The snake plant prefers its soil to be completely dry before you start watering it again. The plants are capable of storing water and can survive long periods of drought. Overwatering these plants can cause root rot.
12. Be Careful With the Leaves
It's important to use caution when handling snake plants. You do not want to get cut or scratched because the leaves and edges of the plant are sharp and will cause a nasty cut that you don't want.
13. Snake Plant Flowers
Did you know that the Sansevieria Trifasciata is also known to produce beautiful flowers? This happens in June and July, allowing for an interesting treat for your eyes when you spot flower buds on your plant. The snake plant will grow small white flowers that closely resemble aloe blooms.
14. It Repels Mosquitoes and Pests
The snake plant is a popular decoration for bathrooms and kitchens because it repels mosquitoes and other insects. This makes the Sansevieria Trifasciata an excellent choice as an indoor plant if you live in areas where you're exposed to these pesky insects.
15. The Plants are Not Pet Friendly
If you have cats and dogs in your home, you should learn to keep them from your precious snake plants. The plants are toxic to your pets, so keep them out of their reach. The snake plant can cause pet poisoning if ingested or chewed on by an animal. It's best not to have this plant anywhere near places where your precious pets can roam freely.
Frequently Asked Questions about Snake Plants
Why is the plant called snake plant?
There are multiple explanations for this. One account tells of the plant's ability to kill a snake if it touches one. Another story suggests that it's because the leaves are shaped like snakes, making them look slithery. Yet another version says that the name is due to the sharpness of the leaves, which can cut you easily if you're not careful.
Can the plant cause skin irritation?
Yes, if you get cut or scratched by a snake plant leaf, you can develop a rash on your skin. The leaves of these plants are sharp and can injure you easily if you're not careful.
What color flowers will the plant produce?
The snake plant will produce pink or white flowers that resemble aloes. These blooms are usually spotted in June and July.
Summary
If you're looking for a new houseplant to buy, consider adding one of the majestic Sansevieria to your living space or office. This award-winning plant will surely bring life to any room it's added in and is considered one of the best plants you can keep indoors.
They are easy to care for, are adaptive, and have a long list of benefits that you'll enjoy. If you're a beginner in indoor gardening and looking for the best plants to start with, you can't go wrong with the Sansevieria Trifasciata.
Last update on 2023-10-05 / Affiliate links / Images from Amazon Product Advertising API