Cactus is a popular plant in many homes for both indoor and outdoor gardens. Even though the plants originate from the desert, most of them can grow happily indoors. Some require very little care and can survive long months of neglect. But if you want them to blossom and adorn your garden with nothing but beauty, you have to take excellent care of your cacti.
Cactus plants come in different shapes, sizes, and colors. Some boast beautiful flowers, while others have stunning shapes. Others have spines, while others are spineless. There are also some, like the old lady cactus, that grow attractive white hairs. The good thing is that most cacti require little maintenance and can do well in both your indoor and outdoor garden.
So, if you're looking for ways to add some beauty and glam to your home garden, you have plenty of options to choose from. Here are 13 awesome cactus blossoms that will do well in your home.
1. Christmas Cactus
You can never go wrong with Christmas cactus if you want to add unique blossoms to your home. This cactus is not named Christmas for nothing as the plant has a way of leaving beauty in every space it touches. The cactus plant brightens the holiday seasons with bright pink blooms perfect for Christmas gifting.
Christmas cactus is a little different from other cacti because it requires more watering and blossoms in a humid climate. This might be the reason why this amazing cactus blooms in winter. The plant also does well indoors and requires moderate home conditions.
Even though Christmas cactus needs more watering than other plants, be careful not to overwater it because the roots can rot. The cactus can adapt in low light but will only bloom if you give it enough light. It can bloom twice per year under good conditions.
2. Cholla Cactus
Cholla cactus is a cactus species that are almost related to the prickly pear cactus. The cactus forms unique rounded and elongated cylindrical stems connected in segmented joints. The Cholla cactus branches have several functions, including photosynthesis, storing water, and producing flowers.
If you're growing cholla cactus, take good care and allow some clearance for moving around other plants. The plant boasts of dense spines, with some species appearing very colorful. Most cholla cactus plants bloom in orange or greenish-yellow flowers according to their condition. It's an excellent outdoor addition to sunny gardens of Southwestern-style.
3. Star Cactus
The star cactus stands up to its name by producing a star-like bloom. The plant has a beautiful round shape sectioned into eight slices. Star cactus also has white hairs and some tiny white dots, which perfectly define its beauty.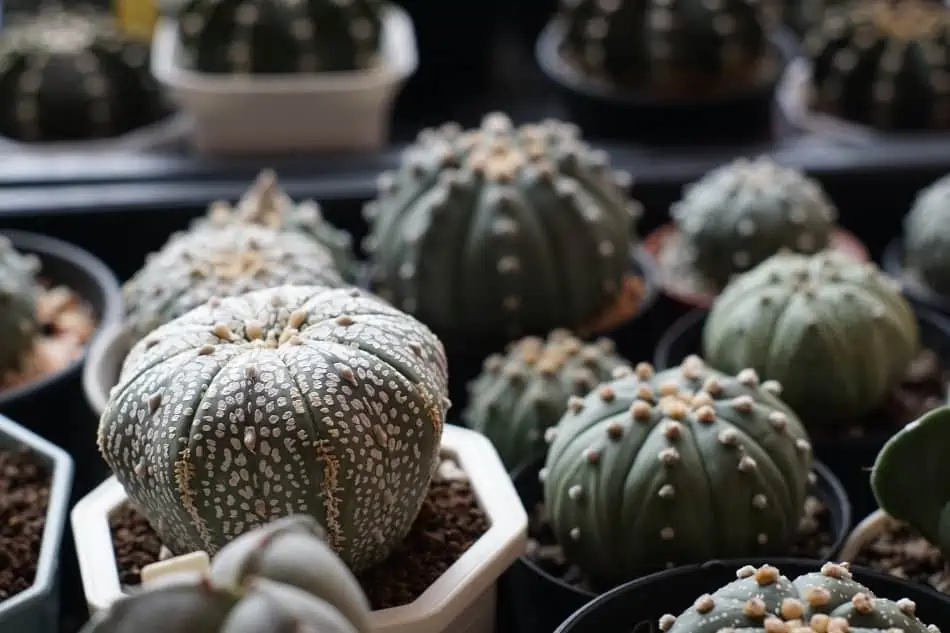 The small plant does more than its size by brightening a rather dull day if you make it part of your succulent garden. This cactus is ideal for your indoor garden if you want it to grow well and blossom. The cactus produces yellow and white blooms, which mostly appear in spring.
Star Cactus grows up to 6 inches long. It doesn't have spines but produces beautiful areoles. It has a greenish body covered in white scales. It's a great ornament plant that you can add to your cactus garden collection.
4. Old Lady Cactus
Those white feathers you see on this cactus plant are not actual feathers of animals. Old lady cactus grows these beautiful white hairs that cover its entire body. The plant is not only famous for its white hairs but also its purple or pink flowers that you'll mostly see in spring.
Even though the hairs may look soft, the old lady is also covered with spines. The plant devised ways to protect its beautiful hairs, and it will not go easy with you if you try to touch it. The old lady is easy to grow and care for. It makes a perfect garden plant for beginners in the cactus world.
5. Feather Cactus
Like old lady cactus, feather cactus is covered with feather-like hairs that give it its ornament and functional purpose. The feathers shield this plant from intense sunshine. It grows well as a houseplant if you give it a shallow container.
When watering the plant, be careful not to wet the features. While the features appear white, fluffy, and soft, they also camouflage for the sharp spines covering the plant's body. Feather cactus also blooms in white, pink, and yellow flowers. Take very good care of this amazing cactus because it's nearing extinction.
6. Easter Cactus
Like Christmas cactus, Easter cactus is another stunning holiday plant to add to your collection. It's named Easter cactus because it blooms with bright pink flowers around the Easter period. You can also get white, orange, and lavender colors depending on the conditions you give it.
The Brazilian plant also has green segments that blend well with the flowers to add to the beauty. The spines are stacked on top of one another, giving it a unique shape. This attractive plant also makes a fantastic gift plant to give your friends for Easter.
7. Parodia Cactus
Parodia is a ball-shaped cactus with beautiful showy plants. Parodia is a slow-growing cactus, but it can take a few years to reach full maturity under the right conditions. The cactus makes a fantastic addition to your cactus garden.
Give it more light and more water than other cactus, and it will reward you with amazing blooms. The flowers vary in colors of red, orange, pink, and yellow depending on the species. The older ones bloom more regularly but mostly around spring and summer.
8. Moon Cactus
Moon cactus adds plenty of colors to your garden, including pink, white, orange, red, and yellow. Their bright color makes them a perfect addition to this list of amazing cacti blossoms to grow indoors.
This plant comes in two types of cacti crafted together to form an amazing plant. Its bottom stock consists of a Hylocereus species. The top part that gives it unique colors is the Gymnocalycium mihanovichii.
The top cactus lacks chlorophyll hence reveals the underlying pigment. Moon cactus requires very little maintenance, and you need to water it occasionally. It's a small plant that can only grow 6 inches tall, but that's enough to beautify your garden.
9. Chin Cactus
If you thought all cacti had those sharp spines, then you haven't come across chin cactus. Chin cactus doesn't have hair on their flower buds. Some chin cactus species will appreciate it if you could grow them under a shade, while others will do well under direct sunlight. Find out the species that you have with you so you can give them the desired light requirements. This cactus blooms in red, white, pink, and salmon.
10. Thanks Giving Cactus
Thanksgiving cactus is another fantastic cactus blossom that you should never miss in your home if you love beauty and glam. This is another holiday cactus joining the likes of Christmas and Easter cacti in the holiday plants collection. The plant continues to bloom into winter and does pretty well in cool temperatures. However, make sure there's no frost.
11. Queen of the Night
Like the name, queen of the night is a night-blooming cactus, hence its name. This cactus is an epiphyllum, meaning it grows on other trees. This is a native to Brazil plant that adorns your outdoor garden with large white blooms. If you give it acidic soil, you'll get this amazing plant to bloom often. When they bloom, they fill your home with a sweet fragrance that you'll notice immediately you wake up. It offers you a perfect way to start your day.
12. Prickly Pear Cactus
From the name, you'll mostly associate this cactus with its spines. But that's not its only attribute because this amazing cactus also makes an excellent addition to your home. You'll mostly identify this cactus with its wide, flat, and branching pads. They also got the name paddle or nopal.
This cactus is not only grown for its beauty, but the natives use it for food as well. Its pads, flowers, and fruit are all edible. The plant blooms in yellow, purple, and red flowers. Its edible pads vary in size, shape, and color.
13. Hedgehog Cactus
This is another small, barrel-shaped cactus to add to your home cactus collection. The plant blooms in pink, red, orange, and lavender flowers. They open in the morning and close at night. Hedgehog cactus also has very sharp spines, so you must be careful when caring for it or picking beautiful flowers. Hedgehog also produces edible fruits. Its flowers open after the spring rains.
Summary
It's the joy of every gardener to see their plants thrive and bloom when the time is right. Cactus doesn't disappoint when it comes to this and is sure to reward you with beautiful flowers if you take care of it. If you love cacti that bloom, you have them in the above list of the 13 cactus blossoms for your home.
Well, some don't flower, but they're still beautiful in their way. And the good thing about cactus is that they're not too demanding in terms of care needs.
Last update on 2023-07-27 / Affiliate links / Images from Amazon Product Advertising API