Air plants are a great way to bring the beauty of nature indoors. They require very little maintenance and can be an attractive addition to your desk or bookshelf. But all plants need water and air plants are no different. Watering your air plant is a topic that has caused some debate, but we've figured out the formula for success and want to share it with you.
So what are the golden rules for watering an air plant? Do not give it too much water at ago because air plants have very full and thick leaves. These leaves hold water, just like a sponge. If you give an air plant too much water at one time, it will take up all of the moisture and sink down into the base. When this happens, the plant is unable to absorb any more water until its leaves dry out a bit. The location also matters when you water your air plants. Cooler temperatures (around 60 to 65 degrees Fahrenheit) will slow the process of water absorption, which means you should increase the dry time.
Watering air plants should not be complicated if you understand how they work. We take a look at 11 golden rules for watering an air plant:
1. Mind The Varieties
When watering air plants, be aware that different species of Air Plants have different requirements when it comes to humidity levels, light exposure, temperature ranges etc. Make sure you research how best to take care of your specific plant before getting started. For instance, some air plants do well with a little misting every day, while others prefer to be dunked in water once a week.
2. Location Matters
When it comes to watering your air plant, where you place it is just as important as how much water you give it. Make sure your Air Plant is in an area with good air circulation, and avoid placing it in direct sunlight or near heat sources.
Location also matters when it comes to humidity levels. Air plants that are kept in a high humidity environment (such as the bathroom) will not need to be watered as often as those that are kept in a low humidity environment.
3. Amount Is Key
How much water you give your Air Plant depends on a number of factors, including the type of plant, its location, and the climate where you live. But as a general rule, you should aim to water your air plant regularly, but not too often. If it's kept in a high humidity environment, you may need to water once every 2-3 weeks.
However, if it's an Air Plant that prefers drier climates, aim to water at least once per week. Because there are no roots involved with air plants, they will not absorb too much water and the excess can simply run off.
4. Use Filtered or Room-Temperature Water
When watering your air plant, it's important to use filtered or room-temperature water. Tap water can contain chlorine and other chemicals that can be harmful to your plants. On the other hand, hot water can cause the leaves of your air plant to wilt.
Room temperature water is also important because cold water can shock the plant's system and cause it to lose its leaves. You do not want to give your air plant a cold shower. When using tap water, let it sit for 24 hours prior to using so that the chlorine can evaporate.
5. Follow a Strict Watering Schedule
Watering should happen once every 1-2 weeks depending on the climate where you live (more often in warmer climates). Don't let the roots dry out. When in doubt, underwater rather than overwater.
6. Use a Watering Can
When watering your air plant, be sure to use a watering can with a fine nozzle. This will help you to avoid getting water on the leaves of your plant, which can cause them to rot. Remember, there are no roots involved, so you don't want to soak the plant.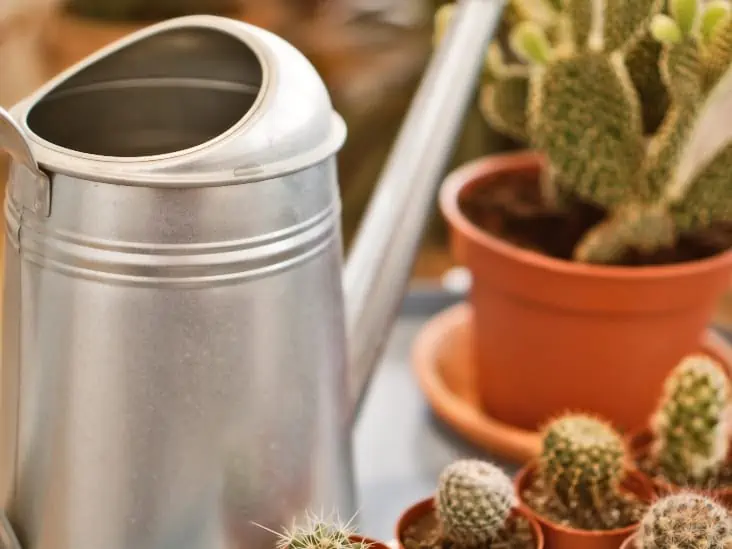 7. Water at the Base of The Plant.
When watering your air plant, avoid getting water on or near the leaves themselves; while they do not absorb much water and can easily dry back out, water tends to stay and cause rot if it sits on a leaf for too long. Instead, water at the base of the plant near the roots.
8. Be Patient
It may take a little while for you to find the right watering schedule for your air plant. Experimentation is key, but once you find a rhythm that works for both you and your air plant, be sure to stick to it so your plant can thrive.
If you are traveling, place your Air Plant in an air-tight container with a damp paper towel to keep it moist. This will help to keep it from drying out while you're away.
9. Avoid Overwatering
Overwatering is the greatest sin you can commit against your air plant. Remember, they don't have roots to absorb water and will quickly drown if you give them too much. When in doubt, underwater rather than overwater.
To avoid overwatering (be especially careful in the summer months), put your Air Plant into a bowl or saucer of water for 30 seconds. The surface of the roots should be moist, but not soaking wet. Then remove it from the bowl and within 5-10 minutes place it back in its original position where it can continue to dry out and breathe.
10. Keep the Moss Moist At All Times
If you're using moss for your air plant, make sure to keep it moist at all times. The moss should never be allowed to dry out. However, it also should not be sitting in water for too long. If air cannot infiltrate the container holding the moss (which is recommended), the roots of your air plant will remain wet and eventually rot.
To rehydrate dried out sphagnum moss, place in water for 30 seconds and then spread the moss back over the air plant roots with your fingers. It is important to keep the moss moist at all times.
11. Timing is Key
Before watering your air plant, wait until the tillandsia feels light before watering. They should never feel heavy or soggy. Remember that air plants absorb water into their leaves, so they will feel light after watering even though they may still be wet inside. A gentle shake should cause any excess water to fall off (if it does not, you might actually be watering your plant too much). If the air plant is severely dehydrated it may take up to 24 hours for it to absorb the water you just gave it.
Watering the Air Plant Using the Soaking Method
The soaking method is one of the most effective ways to get water into the interior of your air plant. It involves placing your plant into a container with just enough water to cover its leaves and then letting it sit in that water for 30 seconds-5 minutes. When using this method, follow these steps:
-Remove your air plant from its pot and place it in a container that is just deep enough to cover the leaves
-Fill a bowl or saucer with water and place the container with your air plant in it
-Wait for 30 seconds to 5 minutes, then remove your air plant from the water
-If excess water does not fall from the plant, gently shake it out
-Place your air plant back in its original position to continue to dry
If using this method, try not to leave your plant sitting in water for too long. This is because the roots of your air plant do not absorb water and can easily rot if they are left submerged for too long. Remember to use a container that is deep enough to submerge the entire plant, but shallow enough that the roots can still dry out quickly.
Air Plants That Do Not Need Soaking
While soaking is a good method to water most air plant varieties, there are a few that do not need it. These plants should be watered using the misting method (described below) every other day rather than daily. These varieties include:
-Bromeliads
-Spanish moss
-Orchids
-Pincushion cacti
Misting Your Air Plant
If your air plant does not need to be soaked, you can water them by misting. The easiest way to do this would be to use a spray bottle filled with water.
Simply put your air plant in the sink and spray it daily until it is moist (do not soak). Mist these plants about 1-2 times per day for 30 seconds at a time. If you are worried about over-watering, simply let the plant air dry in between showers.
Remember that it does not take much water to moisten an air plant. Don't feel like you need to fill a bowl with water every time you want to mist your plants – just wait until they are completely dry and mist them for a few seconds.
Aerating Your Air Plants Between Soakings
In general, air plants only need to be soaked once or twice a week. You don't have to let them dry out completely in between waterings, but you also shouldn't leave them soaking for more than a few days at a time either. To aerate the roots between waterings, leave your plant on a windowsill or some other warm, sunny location out of direct sunlight.
If you live in a humid climate, it is even more important to give your plants periods of aeration between soakings. This will help them dry out properly so they don't rot from being overly moist.
Conclusion
With just a little bit of TLC, your air plant can bring the beauty of nature indoors and add some life to your décor. Follow these simple golden rules for watering an air plant and you're sure to have a happy, healthy plant on your hands.
Air plants are unique in that they don't require soil to grow, but still need water. Since these plants thrive on air and direct sunlight, it's important to learn how to take care of them properly so they stay healthy.
Last update on 2023-10-05 / Affiliate links / Images from Amazon Product Advertising API